How You Can Help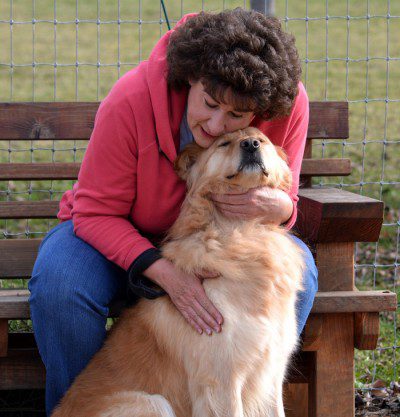 Homeward Bound is an all-volunteer, 501(c)(3) non-profit organization dedicated to the rescue, rehabilitation, and adoption of displaced and homeless Golden Retrievers and Golden mixes. We rely on the generous donations and support of people like you to provide a safe haven for dogs finding their way home again. Our volunteers provide an invaluable component of care, but it is your financial support that keeps kibble in the bins, gas in our transport vans, and covers the hundreds of thousands of dollars in veterinary costs we incur each year.
Unlike some rescue groups that only accept younger, healthy animals, Homeward Bound welcomes all Goldens and Golden mixes, regardless of age or health condition.We rescue approximately 400 dogs each year from as far away as Southern California and even Oregon and Washington.
Medical costs are by far our greatest expense. Homeward Bound provides whatever care is needed from spay/neuter procedures and vaccinations, to heartworm and cancer treatments. We mend broken bones, treat skin conditions, support seizure dogs, and provid surgical relief to dogs with chronic and painful ear infections. Examples of our non-standard veterinary expenditures include: leg amputation; tumor removal; emergency splenectomy; hip surgery; cruciate ligament surgery; treatment of leg, hip and pelvic fractures and much more. While we do receive discounts for veterinary procedures, our veterinary costs still typically run about $200,00 per year.
Homeward Bound depends almost exclusively upon your charitable donations to fund these staggering medical costs. To help facilitate these donations, we rely heavily on the relentless spirit of our creative volunteers who organize numerous fundraising programs and events throughout the year. We have embarked on an ambitious and compassionate journey; but we cannot do it alone. If you have fundraising ideas, suggestions, or want to volunteer your efforts, we would sincerely appreciate your time and input. Together, we can truly make a difference.
If you are interested in helping support our mission of rescue and sanctuary, financial contributions can be made in a variety of ways. Thank you for helping the Goldens!
* Donate
* Give In Honor or In Memory Of
* Memorial Garden Sponsorship & Commemorative Brick Purchase
* Golden Angel Sponsorship
* Shop
* Our Wish List (In Kind Donations)
* Vehicle Donations