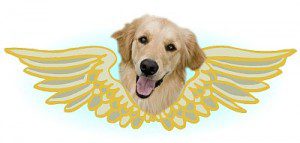 Sponsor a Golden with Special Needs
Want to help the goldens but can't adopt or foster and don't have time to volunteer? You can still contribute! Make a meaningful difference in the life of a golden in need by sponsoring a dog in our Golden Angel Program.
Each golden that comes to Homeward Bound receives at a minimum, a vet exam, vaccinations, spay/neuter, heartworm test and treatment if needed to be ready for placement into a loving home. Some dogs require additional medical care, including hip surgeries, repairing broken bones, removing tumors, treating ear infections, ear surgeries, eye surgeries, knee surgeries, and a host of others. Our adoption fees don't come close to covering the costs of this extensive medical care. Thus we rely on donations from our generous supporters. Some of these golden guests will stay with us for an extended period of time to recover, heal, gain strength and confidence before moving along to their forever homes. Some, because of their medical challenges, will become permanent Homeward Bound residents.
Pictured below are seven dogs with special needs that require extra care and attention. If you would like to help by sponsoring them, you'll be making a big difference in their lives.
You can make a one-time donation of any amount via PayPal or personal check, or you can become a Golden Angel by making a monthly donation via PayPal. Donations are tax deductible and will be a blessing for those goldens who need a little extra care or time.
Miss Pickles aka Autumn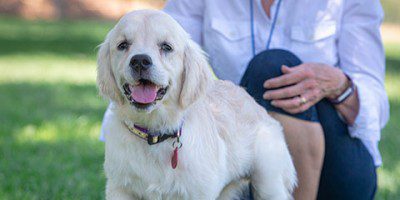 This pint-sized pup is ever ready – so full of energy and life! Miss Pickles has no idea that she cannot see – or that she has a condition called hydrocephalus – water on the brain. Congenital hydrocephalus is usually the result of poor breeding; it appears a few weeks up to a year after birth. It is characterized by a soft skull which results in a domed head due to swelling. Excess fluids – with no place to go – cause compression of the brain which can result in seizures, blindness and behavioral issues.
Miss Pickles was scooped up almost immediately by one of our volunteers who has a history of picking dogs with the greatest needs. An angel chose an angel. Miss Pickles – now named Autumn – will live with her new mom as a permanent foster – but don't tell her that – all she will know is "home." Homeward Bound will ensure her medical care for life – and there will be ongoing needs as she grows and gets bigger. But with your help, we can ensure that those needs are met while her new mom supplies all the love she will ever need to live a happy and full life.
Red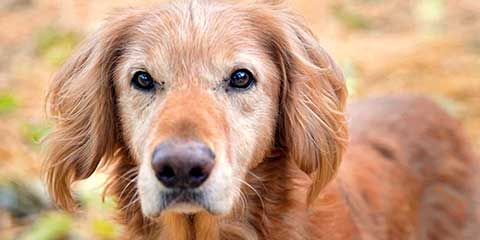 The call of the wild is a powerful thing for dogs. Red came to us in 2012. He was raised feral with a pack of dogs on an owner's property in Oregon. They were all literally rounded up by cattleman and adopted out. Most people had no idea what they were getting into and all but Red found their way back to the wild. Red was surrendered to us by his newly adopted mom who knew his needs were too great for her to keep him safe.
We hoped that Red would adjust in time to the ways of humans and family dogs so we could find his forever home. As it turns out, his forever home will be with us.
When he first arrived, he was emaciated and nervous, constantly surveying his surroundings and rarely sleeping. He found comfort in the company of dogs residing in our senior area, Sugar Shack Acres. In this special area of Homeward Bound, dogs that are unlikely to be adopted – usually due to age or illness – can live communally in a house just for them and a large, shady – and secure – yard that they are free to roam at will.
Progress, for Red, came in tiny baby steps forward and backward. He is still extremely timid around new people and does not welcome walks or the touch of those he doesn't know. He does trust in a few of our dedicated volunteers who can groom and bathe him, and ensure that his medical needs are met. But there is no question that he would bolt and return to his feral life if ever given the opportunity.
And so, we keep Red safe – and loved – in permanent sanctuary at Homeward Bound. His food, housing, and medical needs will be met for life by special angels as our volunteers continue to prove to him that our calling of rescue and love are even stronger than the call of the wild.
Penny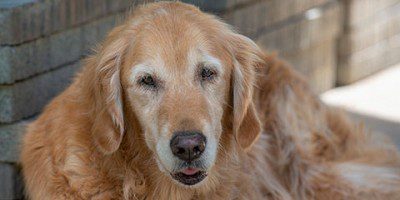 When Penny arrived in February 2018, she was simply a hot mess. This poor girl had a horrible skin condition that stole her beautiful coat, eye infections, and habitual, painful ear infections. She had been left in a Southern California shelter at the age of seven – and she deserved better. Thankfully, through our partner network, she made her way to us.
She underwent ablations of both ears. It is a procedure undertaken for extreme cases of chronic infection that removes the vertical and horizontal ear canals down to the level of the middle ear. It results in total hearing loss – but if Penny could tell us herself, she would say that it was well worth the relief it brought. During the lengthy recovery period, she stayed in our sanctuary area – Sugar Shack Acres – where our feral friend Red has taken up lifelong residence. And there were sparks…the best kind! Penny and Red quickly bonded and she quickly became known as "Red's girlfriend." Given all that she has gone through, we believe the best place for Penny is by Red's side where she feels safe, secure and loved. So Penny will remain with us (and Red) in Sanctuary where her care will be assured thanks to the generosity of good people like you.
Star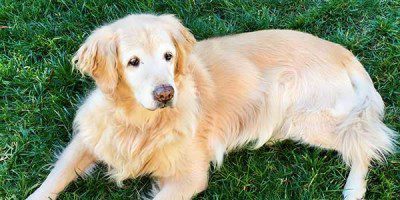 Star was surrendered to Homeward Bound with her sister, Callie, in hopes that they could have a better life. At eight years old, these bonded sisters both suffered from a condition called 'dry eye.' This disorder with a very long official name (keratoconjunctivitis sicca) causes insufficient tear production and a correspondingly dry cornea. In a dog with dry eye, the bright, glistening sheen normally seen in the eye appears lackluster instead with the cornea is dry, dull, and opaque. Dogs with dry eye are prone to recurring bouts of conjunctivitis. Eventually the cornea becomes ulcerated or cloudy. Blindness can ensue, especially if not treated.
While the eyesight of both Star and Callie was already compromised, they could still see. To help keep it that way, they were placed together in a loving permanent foster care. Sadly, we lost Callie in 2017 to age-related illness. But Star – now 12 – is still doing wonderfully in her mom's loving care. Homeward Bound is responsible for her long-term medical care including the cost of expensive drops that have to be administered daily to treat her dry eye condition. When Homeward Bound commits to a special needs dog's long-term medical care, we make it easier for families to say "yes" to a forever home. Star (and Callie) are home because their medical needs are ensured – thanks to generous Angels – like you.
Weezer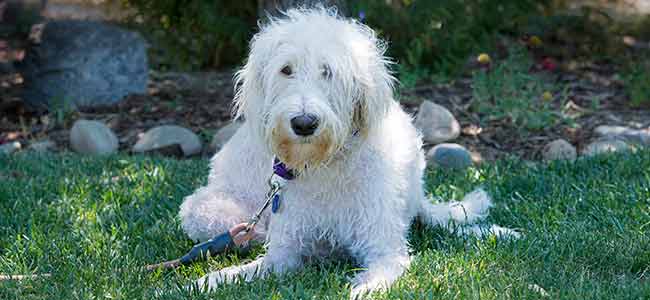 Weezer is an adorable Goldendoodle – part Golden, part Poodle. He arrived at age one with esophageal paralysis. This condition puts him at risk of choking if he eats as a dog normally would. We're not sure whether the condition was acquired through some type of trauma, or is heredity as can so often be the case with "designer" dogs.
For the rest of his life, Weezer will need to be fed a slurry meal of wet dog food, and his intake of food will need to be closely monitored. Other than that, he should live a normal, healthy life. But his diet requires a commitment of significant time and expense to prepare his daily meals. He is home on loving permanent foster home with Homeward Bound covering his medical expenses for the rest of his life.
Weezer – now four – doesn't know the difference between "adopted" and "permanent foster." All he knows is "home" and "loved." We're grateful to his people who understand that the effort bestowed upon him will be returned tenfold in joy. By becoming Weezer's Golden Angel sponsor, you will be helping us offset the cost of his special food and any medical care he needs in future. He sends you a big slurpy "thank you!" – as do we.
Karma
At the age of eight, Karma was left in a shelter with renal failure – what will be a terminal medical condition. We don't know, but we assume that is why she was surrendered; it was certainly not for her lack of charm and grace. This sweet, Velcro girl just wants to be as close to you as possible and to tell you her story in an adorable talking voice. She loves walks and belly rubs and people. She deserved – and deserves – better than to be abandoned.
Our Doc made it clear: she can't tell us how long her time can be measured in. But certainly not years. She said to love her and spoil her. And that is what we have done. Karma is home with an extraordinary foster angel who knows that her heart will be broken at some point. All Karma knows is that this is her forever home.
Karma's special medications and food are provided by Homeward Bound – thanks to you. She is happy and loved and not in pain. This is one of the most important gifts we can offer with your support. Without any expectation of forever years, we can be there for them when they need us most.
Daisy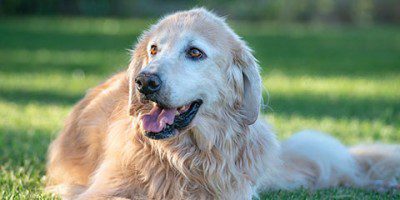 Beautiful Daisy was surrendered to Homeward Bound in 2014 at five years of age. She had developed seizures which were more than her family could manage. She was adopted quickly and was home for two years. During this time she developed separation and general anxiety which became so severe that she started chewing her feet raw and tearing her hair out. Her second family worked very hard to keep her, but in the end, could not meet her needs. Daisy needed another dog and humans that were home all the time to keep an eye on her. She found both with one of our longtime volunteers as a permanent foster dog. With her anxiety reduced through both companionship and medication, she is much happier and more comfortable in her own skin.
Now nine, Daisy will require anti-seizure, thyroid, and anti-anxiety medications plus special food formulated for seizure dogs for the rest of her life. Thanks to good people like you, Homeward Bound can provide these special needs, while her family provides the love and security she needs to live the rich and full life she deserves.
To become a monthly sponsor of a particular dog, or the Golden Angel Fund in general, please click on the "Subscribe" link below. You can process your payment with PayPal or the credit card of your choice and you may cancel your recurring payment at any time. Thank you!