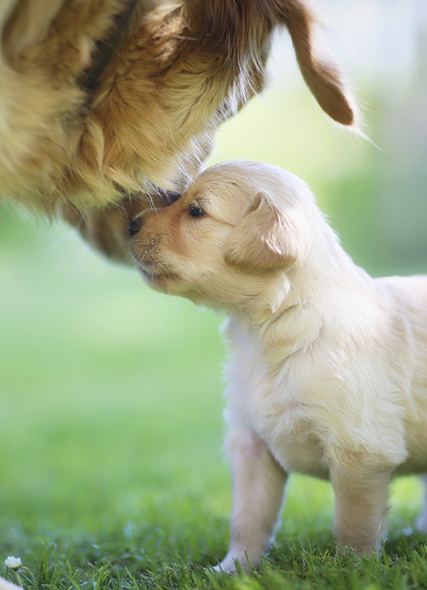 Be Puppy Smart: Choose a Responsible Dog Breeder
FACT: The majority of dogs surrendered to shelters are between 7 months and 1 year of age.
Every year, thousands of puppies and dogs become ill or are abandoned because they did not begin their lives and/or were not placed with proper care. Many people unknowingly buy sick and under-socialized puppies from disreputable breeders and pet stores. The result is both human heartbreak and animal suffering. It is costly – emotionally and financially.
Part of our mission of rescue is to reduce the number of unwanted animals. Along with a commitment to spay and neuter, educating ourselves and others about responsible breeders can make a tremendous impact on reducing the number of animals left homeless each year – and the tens of thousands trapped in inhumane practices like puppy mills.
While we strongly believe adoption is still the best option, we understand that many people want purebreds and puppies. By guiding those who choose to buy, we have the best chance of helping the greatest number of dogs and people.
Responsible breeders want to educate and screen potential buyers/adopters and provide follow-up support after the purchase or adoption. Responsible breeders take lifetime responsibility for the animals they have bred. Read and share the information on the attached pdf document. The key points are summarized here:
A responsible breeder:
Insists on meeting you and your family in person. This is the most important step you can take to make sure you're getting a great puppy. Reputable breeders NEVER sell their beloved pups to strangers.
Raises the puppies in the home, not a kennel. They will happily invite you to see where the pup has been raised.
Ask lots of questions about you, your family and how the puppy will be cared for and raised. They will also freely offer references.
Happily and proudly introduces you to the parents of the puppies. By meeting the parents – or, at the very least – the mom – you will get a sneak peek of the adult your puppy will become.
Socializes the puppies to people, places, and things.
Has a veterinarian individually examine and vaccinate each puppy and has verifiable proof of this. Knows about the breed's dispositions to certain genetic problems and has the dogs tested for them. Does provide a pedigree prior to purchase so you search the Orthopedic Foundation for Animals (OFA) database for health certificates (see detailed information and links on pdf).
Has active associations with local and/or national breed clubs, breed activities, agility training, dog shows, etc. They show a real interest in the breed other than selling dogs and they abide by the breed club's Code of Ethics. A reputable breeder is able to knowledgeably answer all of your questions – and welcomes them.
Guarantees that they will take their pups back at any point in their lives – for any reason – demonstrating a lifelong commitment to the puppies and to you.
The proof of a reputable breeder is in your one-one-one interactions with them. By learning about responsible breeders and puppy purchases, you help reduce the number of unwanted dogs and support us in our mission of rescue.
Please read and share the detailed information in our Puppy Smart Guide.