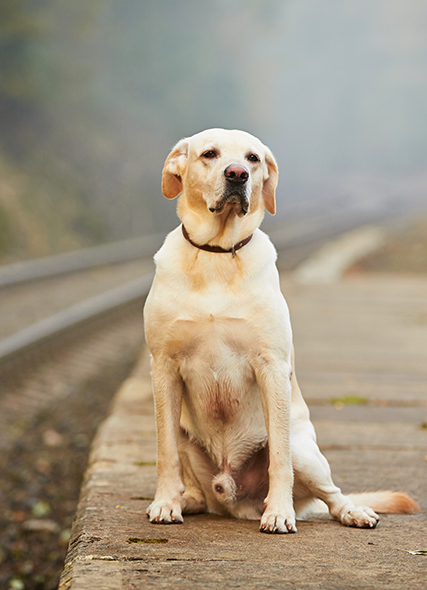 Pets: Lost and Found
Remember that pets with ID tags and microchips are much more likely to find their way back home.
Always keep a current photo on your phone.
If Your Dog Goes Missing
Sweep your neighborhood
If your dog just left your house, it may not be too far, immediately sweep your neighborhood, calling out your dog's name. Be sure you bring something extra tasty, like steak or chicken or canned dog food, to get him to come to you if you are worried he won't. Dogs can be easily spooked when loose.
Tell neighbors
While out searching, tell everyone you meet you are looking for your dog. Show them a picture from your phone. Call all your neighbors that are in the vicinity so they can be on the lookout for your dog.
Alert the microchip company
If your pet has a microchip, call the company to let them know your dog is missing. Make sure all your contact information is up to date at that point.
Create flyers
Create flyers to post everywhere! Make sure you have an up-to-date picture and put your contact information, description of pet, collar color, date missing, and any useful information (like "needs meds," or "scared, do not approach"). Don't forget to put "reward" if you are offering one. Put them everywhere, which gives you another chance to sweep your neighborhood in case your dog turned back or was hiding earlier and you missed it. Pet FBI has an online template you can use.
Stop by local vet offices
Go to the local vets with your flyer so if anyone brings him in, they know where he belongs. It will help them quickly find you in the event it's an emergency situation and/or the microchip won't read.
Visit animal control and shelters
Most shelters and animal controls will not tell you if they have a dog that matches your dog's description over the phone. Instead, drive there and leave some flyers. Remember, shelters are overwhelmed these days and sometimes turn dogs away if they are full; if they have their flyer they can tell the person who found him to contact you. Don't rely on phone calls. Visit the shelter(s) every 1-2 days in person.
Post on Facebook and Nextdoor
Don't forget how powerful social media is. Post your flyer on your page. And ask people to SHARE, SHARE, SHARE. Join local lost and found pet groups and ask them if they will post it on their Facebook page.
Post on Craigslist…but be careful
Post your lost flyer on Craigslist in case someone is looking, but also look for "found" dogs. A lot of people post "founds" in the pets section of Craigslist, so check it daily. BUT BE CAREFUL OF SCAMMERS on this site.
How Scammers Work
One type will claim that they have found your pet, but they need you to send them a 6-digit code to confirm that you are a real person. This person has not found your pet; they are collecting your phone number to create an account with Google Voice (or another similar service) which requires a real phone number to set up. Because these scammers don't want to use their own phone number involved, they trick other people into using theirs.
Another type will also claim that they have found your pet but will send a picture of another dog or cat that closely resembles yours and demand an award before giving you your pet back. This person does not have your pet, and it would be wise to reverse-search the photos they send if you have any doubts.
Unfortunately, scammers have the best luck preying on the vulnerable. Due to the high emotions during the difficult time for the pet owner, it can be easy to overlook otherwise obvious red flags. Make sure not to give any award money before seeing the pet in person, and do not give any six-digit codes out to anyone claiming they've found your pet.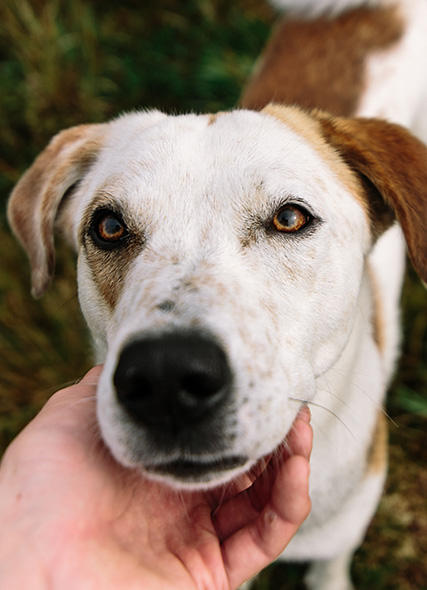 If You Find a Lost Dog
Capture and contain it with care. Always approach stray animals slowly and cautiously while speaking in a calm, gentle voice. It helps to be low to the ground. You can also use food to coax a frightened animal into approaching you. Avoid scaring or chasing the animal when around traffic as this will sometimes result in the animal running into traffic and becoming injured. Ideally, dogs should be secured using a leash or slip lead and contained in an isolated room in the home, a garage, or a yard if it is truly secured. A frightened dog might try to dig out or leap over. A belt or piece of rope can be used as a slip lead in an emergency, but keep in mind that these items are not appropriate as a routine means of controlling a dog.
Call the authorities. Never put yourself in harm's way by attempting to capture an animal that is behaving aggressively as some will do out of fear. If you cannot safely approach the animal or if it runs away, call your local animal control immediately. Be sure to give the dispatcher the exact street address where the animal was last seen. Sadly, response times these days are very slow. If you cannot safely capture the dog, look for postings of lost dogs on social media or Craigslist to see if you can locate the owner and relay the information.
If the animal is captured and injured: Contact veterinarians in your area shelters immediately. Many 24-hour veterinarian hospitals will take animals after hours until a local shelter is open or will care for the injured animal. Ask if there is a vet in your area that has a contract with the county or city to offer this service. The information is not always offered without asking.
Check for ID. Once you have contained the lost pet, check to see if the animal is wearing an ID tag. If so, you may be able to immediately contact the owner and return the pet to her or him. If the pet is wearing an ID, but you are unable to immediately make contact with the owner, you may choose to hold onto the pet and wait for a call back from the owner. If you choose this course of action, still file a "found" report with your local animal shelter in case the owner calls or goes there to search for the pet.
Get the pet scanned for a microchip. If the pet is not wearing an ID tag, the best course of action is to take it to a local vet to scan for a microchip. They will contact the owner if the animal is chipped.
Taking a pet with no ID or microchip to an animal shelter. This is the most obvious place that people will look for their lost pet. These days, you will need to call ahead to see if the shelter will take the animal. With shelters inundated, unless the animal is hurt or aggressive, the response may be to ask you to hold or rehome it if the owner cannot be located. You may also inquire if they will post a photo of the found animal on their website. This would allow you to hold the lost pet, while still allowing the owner to find it at the shelter via a photo.
Post the missing pet online or in local papers. Whether you hold the lost animal yourself or place it in the custody of your local shelter, there are several ways you can help find the owner. If possible, take a photo of the pet and post fliers around the area where the pet was found. Be sure to also distribute the fliers to local veterinary clinics. Local Lost and Found groups on Facebook as well as your community Nextdoor are great platforms to share information in your local community and with friends, just make sure to make the post "public" so that others may share as well. Register found pets at PetHarbor.com and PawBoost​.com You can also post a "found" notice on Craigslist, but beware of scammers who may claim the dog for dog fighting rings or breeding. Anyone who wants to claim the dog should provide a detailed description, multiple photos, and a recent vet record by email before you allow them to see the dog or know its location. If you found the pet in your own neighborhood, go door to door with a photo of the animal and see if anyone knows who owns it. Fewer newspapers offer "found" ads in a classified section of your local newspaper, but check just in case.