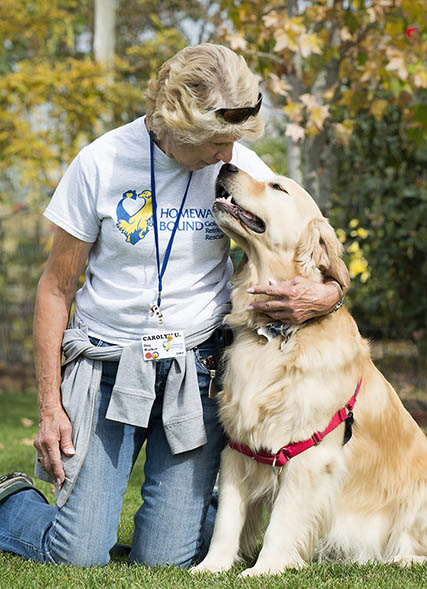 Volunteer
As an all-volunteer organization, we have no paid staff at Homeward Bound Golden Retriever Rescue & Sanctuary, allowing us to devote almost all our resources to the dogs. We simply would not exist without our dedicated volunteers.
You can make a big difference in the life and journey of our dogs on their way to forever homes. For adults 18+, we offer a full range of volunteering efforts. You can get involved a little or a lot. There are many different roles – both on-site or from your home – from feeding, cleaning, and dog walking to office work, transportation support, and home visits. No matter your skills and talents, we probably have a volunteer opportunity to match.
Please check out the opportunities below and fill out our Volunteer Application, letting us know how you'd like to help. We'll help you find the perfect fit! You're guaranteed to fall in love with our dogs and will likely make a few new friends while contributing to something you'll feel great about.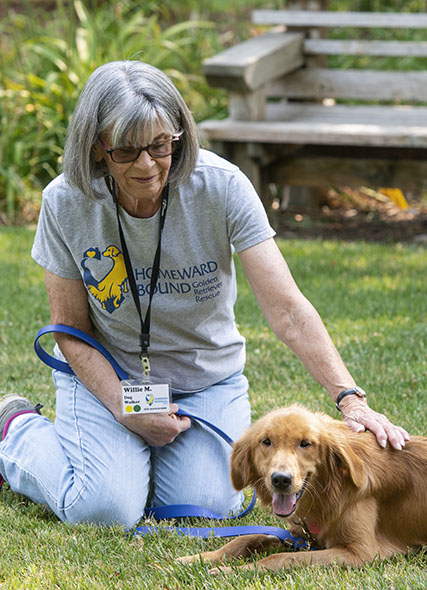 Here are some of the ways you can help.
FOSTERS provide safe haven, care, and training to help dogs on their journey to forever homes, or, in the case of dogs who are unadoptable due to age or illness, provide permanent sanctuary as they live out their lives with love.
FEEDERS voted tops with the dogs! Our teams arrive twice daily, rain or shine, for a strenuous workout and rewards of wagging tails and sloppy kisses.
WALKERS build bonds of trust through walking, playing, training, and grooming, learning each dog's needs while helping to prepare them for their forever homes.
GOLDEN TAXI DRIVERS get shelter or surrendered dogs to safety and second chapters from across California and Oregon.
FACILITIES/MAINTENANCE TEAM keeps our sanctuary running with an endless "honey-do" list.
GROUNDS AND GARDENERS maintain eight acres of yards, grounds, and our memorial garden.
YOUTH PROGRAM MENTORS inspire the next generation of rescue while helping them achieve community service goals.
ADMINISTRATIVE & MARKETING the invisible glue that manages the data, keeps the books, and tracks our progress – and then shares it with the world.
GRANT WRITERS, FUNDRAISERS, EVENT STAFF keep us operating and connected to the community – because it is our supporters' generosity that keeps our lights on, our medical bills paid, and our kibble bins full.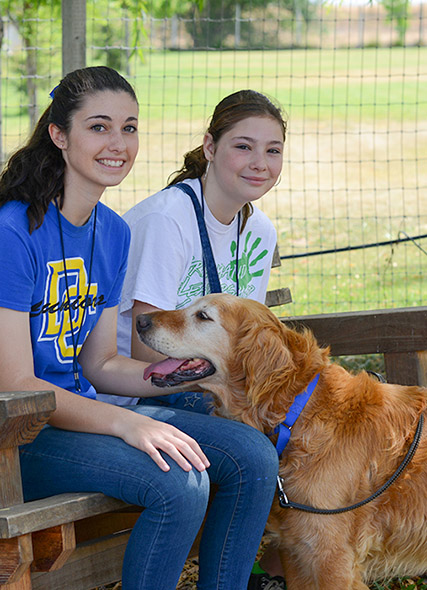 Volunteer Code of Conduct
I will understand, communicate and uphold Homeward Bound's mission:
Homeward Bound Golden Retriever Rescue & Sanctuary, Inc. is an all-volunteer organization which rescues and heals displaced, abandoned, and homeless Golden Retriever and Golden mixes, regardless of their age or health. Homeward Bound secures safe, loving homes through a comprehensive adoption program, and also provides lifetime sanctuary for Goldens that cannot be adopted.
I will place the safety, care, physical and emotional well being of the animals at Homeward Bound first, and I promise to follow any instruction or feedback given to me to ensure this level of safety and care.
I promise to respect confidential information and follow all processes and procedures.
I will participate to the best of my abilities and promise to help others when/if needed.
I promise to be dependable, and if I am unable to keep my commitment, I will notify the appropriate person or find a replacement.
I will do all that I can to make Homeward Bound a welcoming place for potential adopters, volunteers and visitors.