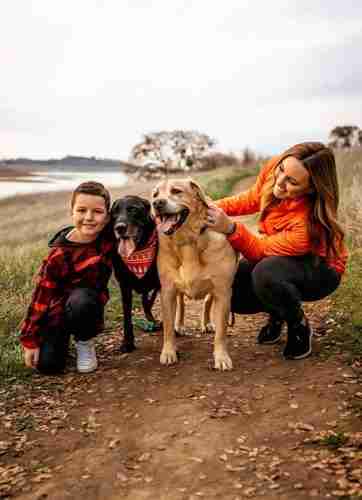 Adopt Your New Best Friend!
Homeward Bound Golden Retriever Rescue & Sanctuary offers a comprehensive adoption program designed to make forever matches. Take a minute to read about our process, eligibility guidelines, and FAQs here.
For new adopters, please read our information on adoption eligibility and process before completing our adoption application below. Once your application is received, we will review and process your application, scheduling a home visit within 1-2 weeks.
Previous adopters should call us to let us know you are looking again. Do leave a message. A human will respond. If it has been five years or more since adopting, please also complete an updated application to advise us of any changes to your home or its inhabitants.
Adoption Eligibility
Homeward Bound generally adopts dogs within Northern California and Northern Nevada. Some exceptions may be made in special situations.
We are looking for safe, loving homes with people committed to the dog's health and happiness and who will consider the dog as a family member, living and sleeping inside. While some of our dogs come from loving homes, all have been unexpectedly uprooted. Many come with training, confidence-building, or care needs that should be supported with positive reinforcement, patience, and ample time to bring out the best in your new companion.
We generally require that you have a fenced yard (exceptions may be made on a case-by-case basis).
We ask that you are realistic about the right dog for your lifestyle and that you trust in our experience in making these matches.
Application Process
We value all our previous adopters, donors, volunteers, and interested families. However, we prioritize based on the best fit for the dog. Those families with children under five years of age often have a longer wait as we typically only match dogs with a known history to these families.
We receive several applications daily and do our best to process applicants quickly and match families to the right dog, ensuring success and happiness for all involved. Some dogs are surrendered to us by families due to financial, health, or moving needs. Others come from shelters or irresponsible breeders through no fault of their own. Adopting a pet is a lifetime promise that requires patience and commitment. The joys and rewards are many.
Please expect a lengthy wait for those seeking a purebred Golden Retriever dog or puppy. However, we have always opened our doors to Golden mixes and other dogs of golden heart and hope you will see that they are equally special and deserving.
We understand and share your love of the Golden breed. If you decide to consider purchase over adoption, please be sure to read our information about how to choose a responsible breeder, so you don't inadvertently contribute to the horrors of puppy mills.
Adoption Process Following Pre-Approval
Once you are approved, stay in touch with us. Call our office on Thursdays or Fridays to check on newly available dogs. Leave a message. This signals that you are actively engaged in your search. If we have a match, we will schedule an appointment.
Adoptions are by appointment only, Fridays and Saturdays, 11A-3P, and Sundays from 12N-3P. We expect the entire family and your dog(s) to meet a potential match. Please plan on time with us and bring a leash as you may be going home with your new friend.
Golden Touch Program: A Senior-to-Senior Connection. This adoption-fee-waived program matches our "Golden Oldies" with retired persons at least 60 years of age, not working, and on a limited income…people who are in a position to spend quality time with a senior dog. Please ask us about the program if you believe you are eligible.
Adoption Fees
All adoption fees go toward caring for our dogs and saving more lives; this includes veterinary care, medications and vaccinations, transportation, room and board, enrichment, training, and more. Adoption fees cover only a fraction of our cost for care.
Adoption fees may vary for SPECIAL NEEDS GOLDENS and some GOLDEN OLDIES.
| Youngsters up to 3 years | $350 |
| --- | --- |
| Adults 4-7 Years | $300 |
| Adults 8-10 Years | $250 |
| Golden Oldies 11+ | $200 |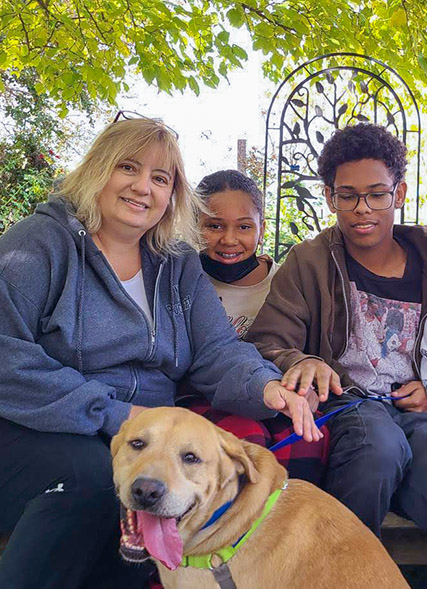 Our Commitment to You and Our Dogs
Our commitment to you is to evaluate each dog, complete a medical examination, test for heartworm, vaccinate, spay or neuter, microchip, and provide whatever medical care is needed to prepare the dogs for home.
Our commitment to the dogs includes our lifetime promise: If for any reason you can no longer care for your adopted dog, he or she should be returned to our care to ensure a good home.
Frequently Asked Questions