Meet our dogs! New dogs arrive at Homeward Bound weekly. Before they are made available on the website, they are vetted, seen by our veterinarian, and assessed to determine the best match for them and our adopters.
Benny
Golden Retriever, Age 11, Boy
Think of me as a professional dog. I've put a lot of effort in mastering dog skills, and now I'm looking for my last home. This time I really want to live inside the house, if you don't mind. I'm a great companion with no serious bad habits. If you're someone who can appreciate a dog that's been around and handled like's up and down with great skill, then I'm your guy. Click my photo for more info.
Ozzy Bear
Golden Retriever, Age 9, Boy
Ozzy Bear's a great name, don't you think? You might think a dog with such a name would have a great personality… and you'd be right.The people here love me, and I love them. You should know that I like an adventure as much as the next dog, so if you leave something open then you'll have to catch up to me on my walkabout. Hey, if you have a pool, I love to go swimming. But you should also know I prefer skinny-dipping. I'm just that kind of guy. Click my photo and check out my own page!
Molly
Lab Mix, Age 8, Girl
I'm one of those great all around dogs to have in your home. I love people, and I know how to behave in the house. Don't pick me unless you want an affectionate dog that will give you lots of attention. I'm no couch potato. I like to do things and get out of the house for nice walks. I know basic commands… and I have pretty eyes, too. Grooming and petting are always allowed! I do want to be the only dog though, but we can talk about that when you come to meet me! Click on my photo next!
Zeus - ADOPTED!
Lab Mix, Age 8, Boy
No thunder and lightning bolts, I promise. I am an awesome dog though, if I do say so myself. I love affection so I'll let you brush me and pet me as much as you like. I'm an active guy that likes to play ball but I do have some limitations about playing. Click on my photo to find out more about that.
Daisy
Lab Mix, Age 4, Girl
Daisy — that's me. One of those special Labby types that end up at Homeward Bound. So I'm not a Golden but I have a lot to offer! For one thing, I'm a cute girl that loves people. I have good manners, and I'm ready to go. Click my photo for more information. Then you can call up and make an appointment to meet me!
Metro - ADOPTED!
Golden Mix, Age 3, Boy
So… guess where they found me running around loose? Most of the time, the first words I hear from people is, "Oh, isn't he adorable." And it's true. I am adorable. And I make good use of that talent. But I'm more than a pretty face, sweetheart. I can take care of myself, believe you me. Look, I'm a fun guy with high hopes so you'd be doing yourself a favor to hook up me. You and me, we're going places, see?
Annie - ADOPTED!
Golden Retriever, Age 3, Girl
I'm a gorgeous young girl, it's true. So much that most people want to hug me and squeeze me and take me home right off. But there's more to know about me! Make sure you take the time get to know me first becasue I have some quirks just like everyone else. One thing is that I can be a little shy when I first meet someone. Don't be offended! It's me, not you. There's more though. Click my pic to find out!
Copper - ADOPTED!
Mix, Age 2, Boy
I've got some Hound in me, and that's how I got my name. See, my Mom really liked the movie, The Fox and the Hound, so she named me after that hound dog, Copper. You can click my pic and find out my story but the bottom line is that I am looking for a new home. I'm young and energetic and loads of fun. I am going to need some training — I want to be honest about that, right? But I got a lot going for me so make sure application is in then come out and meet me!
Mack & Daisy
Great Pyrenees, Age 1, Boy & Girl
There's no getting around it. It's true that we are big dogs. But… we are gentle and coordinated. No bull in a china shop here. We love each other a lot so this is a package deal. Besides, we are so charming you won't be able to resist anyway. We will need a good amount of attention or a job to do so we stay busy. Make sure you talk to the people here about our breed and what our needs are. Look forward to meeting you soon!
Kimber - ADOPTED!
Golden/Great Pyrenees mix, Age 1, Girl
I'm a beautiful mix of Golden Retriever and Great Pyrenees. That's a great combination and I am a fantastic dog. You won't find a lot of dogs like me around, that's for sure. I love to play, and I would really, really like another dog to play with. If you have a dog that is active enough to play with me then I would love to meet you and yours. I'm bigger than most Goldens so I'm hoping to find a really nice dog that's not intimidated by size. Click on my photo for more information about me.
Humphrey
Golden Retriever, Age 6 Months, Boy
Call me Humphrey. I've got a story to tell. I traveled across and ocean to come to the U.S. My trip was filled with exciting adventures. Well, to be honest, I flew in a jet and mostly slept. Still, there aren't all that many dogs that leave China to find a new home in the States. I'm still a puppy and an entertaining chap, I'm told. People just want to grab me up and take me home. But… there are some things I need to work on so click my photo to find out more.
Courtesy Post - Jasmine
Labrador/Rottweiler Mix, Age 5 years, Girl
I'm Jasmine a 5 year old female Lab-Rottweiler mix. I'm very loving, playful, loyal and protective. I need a large yard and someone to walk me. I love to cuddle! I think I'm a lap dog, but I'm 120 lbs. My mom moved in with a friend and I don't get along with her female dog. Please give me a loving forever home and I'll forever love you. I have all my shots and am spayed.
Jasmine is not a Homeward Bound dog. Please contact Pam at pamstrinkets@yahoo.com for more information.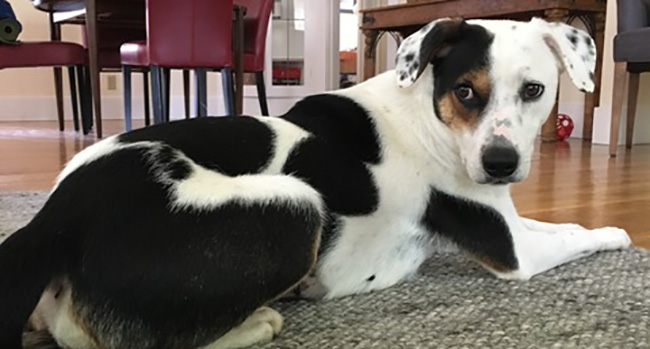 Courtesy Post - Shyla
Australian Cattle, Border Collie, Llab, German Shepherd, Siberian Husky, Rottweiler Mix, Age 3 years, Girl
Shyla is smart dog with lots of energy as well as an interesting genetic make-up. Click her photo to learn more about her and the numerous breeds that have combined to make this unique dog.
Please contact Ed Fink at 619-208-9765 or fink65ej@gmail.com if you have questions or are interested in meeting Shyla.
Courtesy Post - Clement
Labrador/German Shepherd Mix (likely), Age 4 years, Boy
Clement is a handsome, active boy that needs to find a new foster or permanent home. Please click his photo for additional information about Clement.
If you are interested in learning even more , please email Second Chance German Shepherd Rescue (SCGSR) at info@scgsr.org.