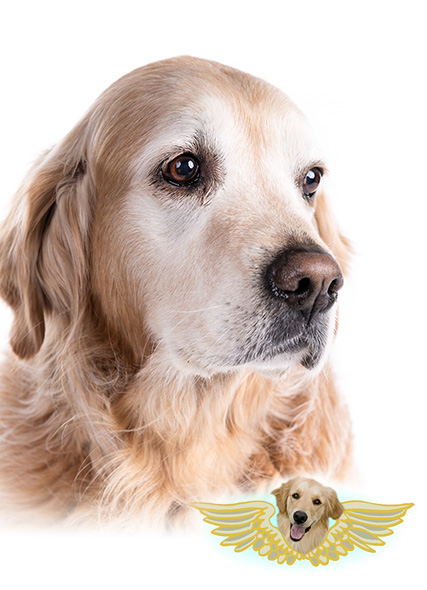 Sponsor a Golden with Special Needs
Want to help the Goldens but can't adopt or foster and don't have time to volunteer? You can still contribute! Make a meaningful difference in the life of a golden in need by sponsoring a dog in the Homeward Bound Golden Retriever Rescue Golden Angel Program.
Each Golden that comes to Homeward Bound receives at a minimum, a vet exam, vaccinations, spay/neuter, heartworm test and treatment if needed to be ready for placement into a loving home. Some dogs require additional medical care, including hip surgeries, repairing broken bones, removing tumors, treating ear infections, ear surgeries, eye surgeries, knee surgeries, and a host of others. Our adoption fees don't come close to covering the costs of this extensive medical care. Thus we rely on donations from our generous supporters. Some of these golden guests will stay with us for an extended period of time to recover, heal, gain strength and confidence before moving along to their forever homes. Some, because of their medical challenges, will become permanent Homeward Bound residents.
Pictured below are seven dogs with special needs that require extra care and attention. If you would like to help by sponsoring them, you'll be making a big difference in their lives.
You can make a one-time or recurring donation of any amount via our secure online system PayPal, or personal check. Donations are tax-deductible and will be a blessing for those Goldens who need a little extra care or time.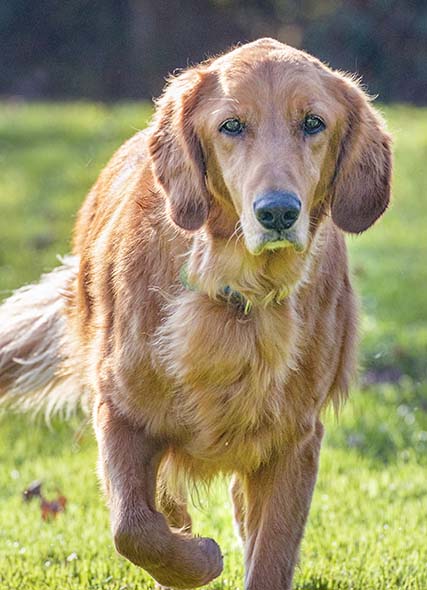 Rocky
Raised from a pup, Rocky was a well-behaved, playful Golden boy, gentle with his young humans and a little confused about his size: he thought he was a lap dog! Over time, this handsome boy developed hypothyroidism and seizures—and with the seizures, extreme separation anxiety. His behaviors changed. He did not want to be left alone; he began getting into things that he had previously ignored. His people tried a long list of medications and treatments to no avail and became increasingly concerned that his behaviors could impact the young humans in the home. Reluctantly, they surrendered Rocky to our care.
Our vet began by reevaluating all of his medications to get a clearer view of what course of treatment would give Rocky the best quality of life. A camera was placed in his kennel to monitor his seizures and help the vet understand the pattern and severity. Meanwhile, our volunteers loved him, providing the socialization and emotional support he needed. With a manageable plan in place he was able to go home with someone who understands how to manage the seizures when they do occur. Homeward Bound ensures his medical care for life. Today, at eight years of age, he loves his walks, socializing with small children in the neighborhood, fetching a ball, eating ice cubes, and playing tug a war. "He has given me a reason to go on; I love him so much!" Thanks to the support of people like you, Rocky receives the care he needs so he can be home.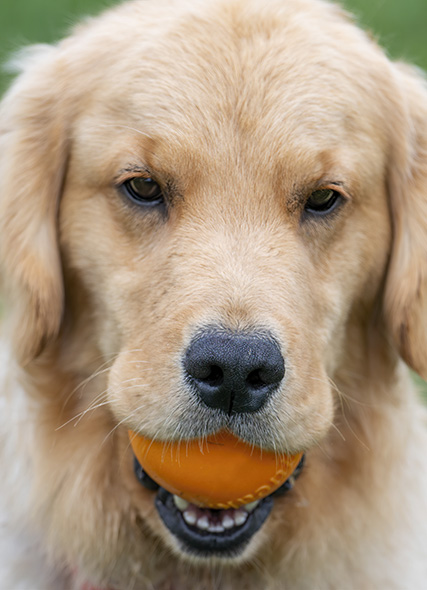 Bonnie
Bonnie was surrendered at one year of age by her owner early in 2020. She had been diagnosed with an ectopic ureter and inverted vulva, which could only be corrected through a complicated and expensive surgery at U.C Davis. The procedure provided Bonnie with an artificial urethral sphincter (hydraulic occluder) which required round-the-clock care for six months following surgery. Once her body healed, she underwent another complex procedure to end her urine leaking problem.
Bonnie's first surgery, which was delayed by COVID, was performed in July 2020. She required round-the-clock injections. That's when one of our dedicated volunteers stepped in. The plan was to nurse Bonnie back to health and return her to Homeward Bound ready for adoption. But her leaking never completely subsided, and it didn't take long for Bonnie to pull at the family's heartstrings. She now resides as a permanent member of the family who say: "What's a little pee? No problem!" As her new family continues to monitor her progress, all future medical needs will be provided by Homeward Bound – thanks to you.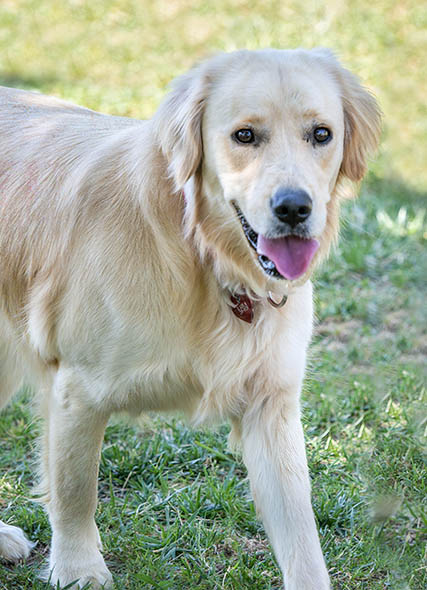 Laila
Laila came to us by way of another rescue that was not able to meet her medical needs. She was born with Hydrocephalus (water on the brain), is mostly blind and arrived heavily dosed with prednisone. We gradually weaned her from the drug but found, through a series of fosters, that she had ongoing accidents in the home. These were not medically caused, but a result of the Hydrocephalus. Full of life and joy, Laila is likely to have additional behavioral and medical needs as she ages.
It took three fosters, but Laila found her forever home. Her new mom has a huge heart for special needs dogs and has welcomed a long list of hospice and dogs with unique needs into her home. Laila has found a home full of joy, play…and a little pee! Now approaching age four, some additional behavioral and medical needs have arisen typical of her diagnosis, but she could not be in better hands, or more loved. Laila can be home as part of our permanent foster program; Mom provides the love…we provide Laila's medical care for life – thanks to you.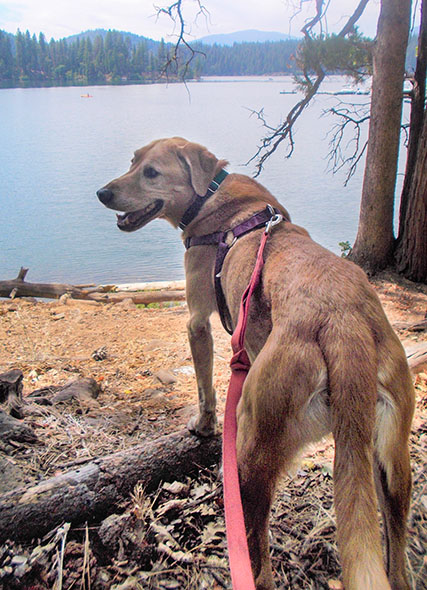 Cooper
Cooper came to Homeward Bound as a puppy named Capone in 2016. He was returned because everything changed for him and his family. Cooper developed insulin-dependent diabetes and cataracts that left him nearly blind. His family could not provide the support that he needed and – in keeping with our lifelong commitment to the dogs – he was returned to us so we could find him a better equipped home. He found that with his permanent foster family who carefully controlled his diet and monitored his diabetes. He will remain on insulin the rest of his life which Homeward Bound will provide, but their diligence paid off for Cooper. In 2021, he underwent successful cataract surgery. It's a whole new sighted world for Cooper as he and his permanent foster parents travel the country in their RV. They – and we – are forever grateful for your support.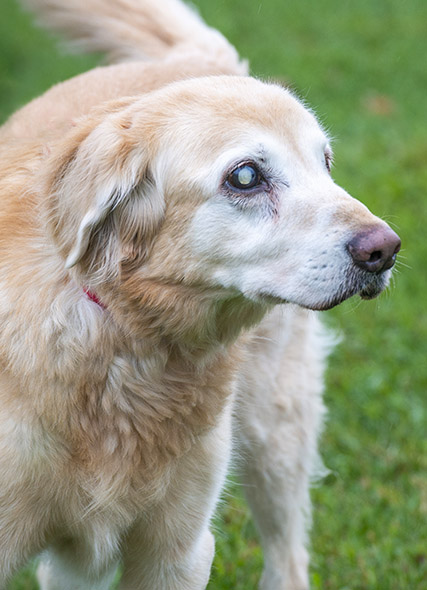 Kodos – Now Murphy
Kodos – now Murphy – arrived arrived in 2019. Glaucoma had made him completely blind in one eye and he was losing sight in the other. Always an integral part of the family, he loved to cuddle and be by his humans' side. But things changed with the arrival of a toddler and newborn. Because of his challenged vision, he was easily startled by the running child and largely ignored amid the chaos of a newborn in the home. For his safety and the children's, the family had taken to crating him most of the time, but they knew he deserved better. They surrendered him at the age of six. He remained with us for several months waiting for the right match. When our applicant appeared with a preference for dog who loved cuddling and gentle walks, we knew we had found her. We sent him home as a permanent foster so we could cover the cost of the expensive eye drops he would need lifelong to reduce the pressure in his eyes. Now 10, he has also gone deaf. His mom guides him through life, while we ensure his medical care – thanks to you.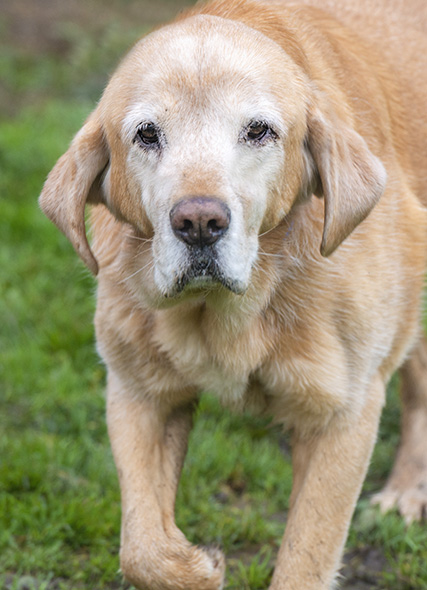 Lobo
This beautiful Golden mix, was surrendered December 2021. He was spending a lot of time alone with his Golden buddy. When his buddy was lost – so was Lobo. His medical needs had also become more than his family could manage financially or timewise. Loneliness, allergies, and food sensitivities had taken their toll – and then, Lobo developed seizures. We could manage his health needs with our vet's good guidance, but Lobo needed love and attention as much as good medical care. He found both with his permanent foster. Carol has a 30-year history of loving dogs. Both her home and work-at-home schedule were exactly what Lobo needed. Now, at age 11, Homeward Bound ensures his medical care – thanks to you – while Carol provides the love and attention he needed and deserves.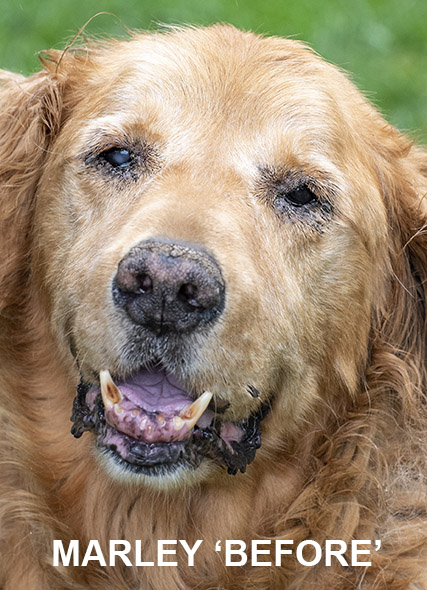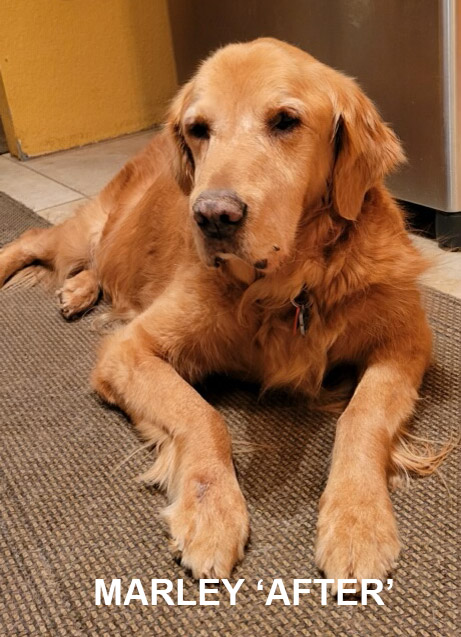 Marley
Marley – Surrendered at almost 12 years of age in mid-2022, Marley was the victim of divorce and homelessness. This once well-loved boy found himself confined to an outdoor kennel for five years before receiving a three-day eviction notice. He was a hot mess of neglect: morbidly obese due to lack of exercise weighing in at 114 lbs., he had a torn ACL, and poor skin condition due to lack of baths. He was arthritic and sporting growths, cysts, and an eye infection. We shaved him down and provided spa treatments along with our Doc's expert medical care. What he needed most, however, was love, attention, gentle walks, and care – and a lot fewer treats! Those needs were fulfilled with long-time volunteers who have a special love for seniors and a list of those helped as long as your arm. His medical needs are provided by Homeward Bound. His transformation is thanks to you!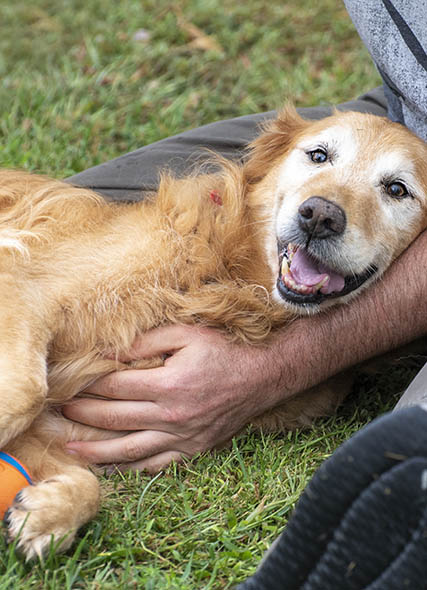 Donate
To make a general one-time or recurring donation to the Golden Angel Fund, simply Click on this link.
If you prefer to send a check, please make it payable to: Homeward Bound Golden Retriever Rescue and mail it to the address below, including a note about the dog or dogs you wish to sponsor. Thank you!
Golden Angel Fund
Homeward Bound Golden Retriever Rescue
7495 Natomas Road
Elverta, CA 95626