An Extraordinary Opportunity to "Double The Gold!"

Each year, in early spring, a small group of donors step up to build a fund for the medical care of the dogs. This year, they have raised the bar with their heartfelt donations. Now, we turn to you – because every dollar raised through the "Double the Gold Challenge" is matched by their "Fund of Love" – doubling the impact of every gift.
Shelters are overwhelmed with dogs of all ages abandoned in this pandemic. Last year, we took in 100 more dogs than the year before. We are on track to do the same – or more, in 2022. The economic impact of this situation has taken hold. This is not just a human crisis: it has become an animal crisis, too.
Now – more than ever – your support is needed to capture every penny of that waiting match. No gift is too small. Together, we can get there and ensure that we can still say "yes" to every dog in need.
The dogs featured here are just of few of the hundreds who will receive our support this year.
Comet
At nine months of age, Comet was surrendered with hip dysplasia. The family could not support the needed surgery to restore the full use of his hip or relieve his pain. They also recognized that, even with surgery, Comet may have long-term needs related to the dysplasia as he ages. In March, Comet underwent FHO surgery in which the head of the femur is removed and the muscles around the femur and hip socket gradually strengthen through time and therapy to create a false joint. The process takes a minimum of eight weeks for recovery which is hardest on very young dogs who just want to run and play. We hope to find a foster or foster-to-adopt candidate who will support his need for gradually increasing exercise and swimming.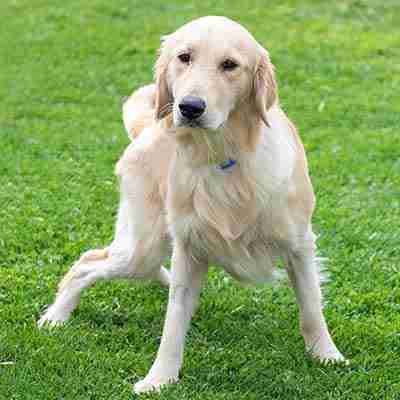 Adira
Adira was found stray in the Central Valley. You wouldn't know it by her photo, but she is a Golden mix between 6-8 years old. This weak and delicate mom of likely numerous litters arrived in late January. She was underweight, with a serious skin condition requiring medications and special weekly baths, a heart murmur and arrhythmia, and an overwhelming look of sadness. Almost two months at foster have cured the sadness and nearly restored a full coat of healthy hair. Someone discarded Adira like trash; we discovered a gem with good care and love.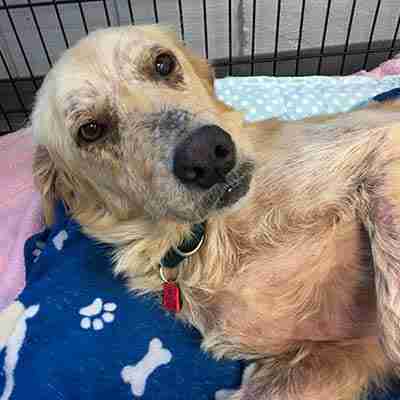 Eve
Eve arrived with a male friend. They had been found stray together, a likely dumped breeding pair. At only five years of age, she had clearly birthed multiple litters. Our vet discovered a chain of mammary tumors; exposure to specific hormones increases the risk. Eve was scheduled for a double mastectomy – the first taking place in late 2021 and the second in early 2022. Eve shared her displeasure with the cones and crating required for her recovery, but she is now healed and living the spoiled life she deserves!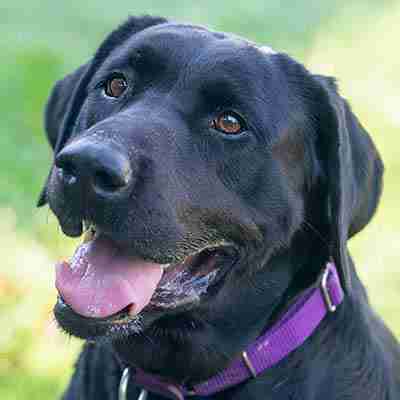 Boomer
At only three months of age, Boomer was found stray with a broken leg. How this little one was abandoned this way, we'll never know. The break was too old for us to heal surgically, so it was splinted with a prescription for eight weeks of rest and weekly bandage changes. Determined to make a mockery of both instructions even under the watchful eyes of his fosters, Boomer repeatedly removed his splint! His leg may have a lifelong limp, but it will be fully usable thanks to the care he received – and his spirit clearly remains unbroken!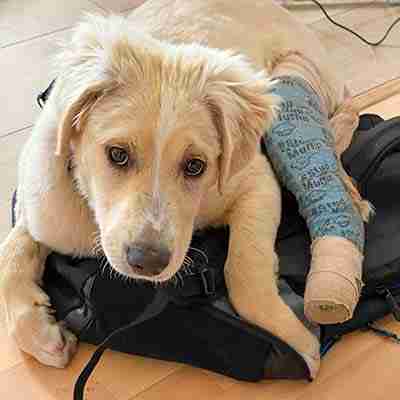 Lilly
Lilly was found stray in the Central Valley. She weighed in at only 23 lbs. That she was still standing was a miracle in itself. She is approximately 10 years old, blind, and diabetic. She has earned the coveted office dog spot where she has found a quiet spot and we can keep a close watch on her, administer insulin twice daily, and feed her small meals multiple times during the day to help her slowly gain much-needed weight. Since her arrival, she has gained six pounds – with a long way to go. That this kind of neglect happens so close to home is so disheartening. But she is safe now and we will guide her recovery while administering the most important medicine: Love.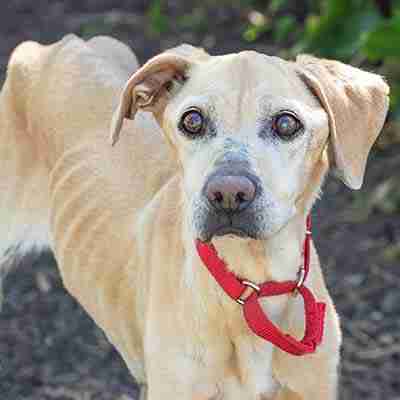 Homeward Bound has been able to support all of these dogs thanks to your generous gifts.
In 2021, our veterinary expenses exceeded $355,000—a 33% increase over 2021 in keeping with the higher intake and the dogs' extraordinary needs. We took in 420 dogs. Another 85 were supported in permanent foster with their medical needs met by Homeward Bound – so they could be home. Most of the dogs that came to us required basic or minor veterinary care. Some needed much more.
We know that these are extraordinary times and that many of you are under pressure, as well. Anything you can contribute during the Double the Gold Challenge will not only help – it will go twice as far as your gift is doubled by the waiting Fund of Love match created by a few big-hearted donors.
We cannot do it without you.
On behalf of the Goldens that will benefit by your generosity, our heartfelt thanks.
Let's not leave even a dollar of that Fund of Love match behind! Every dollar donated during the months of April and May stands ready to be matched and will be 100% dedicated to veterinary expenses for wonderful dogs who desperately need all of us.