It's Time To Help Us "Double The Gold!"

Each year, in early spring, a small group of donors step up to build a fund for the medical care of the dogs. Then we turn to you – because every dollar raised through the "Double the Gold Challenge" is matched by their "Fund of Love" – doubling the impact of each gift.
Our "Fund of Love" donors have raised the bar to a minimum of $65,000 in waiting match. Let's "Double the Gold" and claim every bit of that…and maybe ask for more!!
Homeward Bound accepts dogs regardless of their age or health, which makes us unique. We also accept dogs that are gold-of-heart if not of Golden pedigree as capacity allows. And that includes puppies! If 2018 is the Year of the Dog, 2017 was the Year of the Puppies! In a 12-month period, we took in 55 of the little fur-balls. Even healthy puppies require enormous resources and care: de-worming, vaccinations, microchips, spay/neuter, and – of course – lots of food, cleaning, training and attention. In 2017, many puppies came to us with special medical needs including heart murmurs, severe malnutrition, seizures, worm infestations, and even a mangled limb.
Here are just a few surrendered to, or rescued by, Homeward Bound –
helped on their journeys home thanks to the generosity of people like you.
Irish and Her Litter
Irish was a stray that had been taken in by well-meaning people who didn't realize she was expecting. When her puppies were born, she and her babies were surrendered to a shelter and scooped up by Homeward Bound. Irish Momma had a previously broken leg that had not healed well. Despite her obvious discomfort, she was an amazing mom. Unfortunately, the shelter is not a good place for a nursing mom and her babies; they all developed kennel cough, which is hard on an adult dog – but potentially fatal for puppies. She had to be separated from them at just under five weeks. Our volunteers weaned them and fed them baby food and mush until they were ready to eat puppy food. They were treated for kennel cough, from which they all thankfully recovered. The puppies all went to loving homes, and so did Irish after surgery to repair her leg.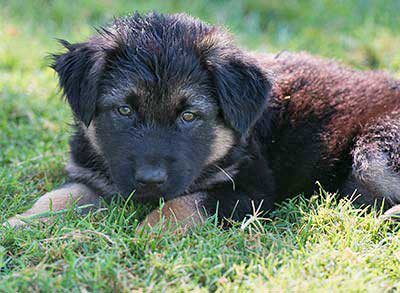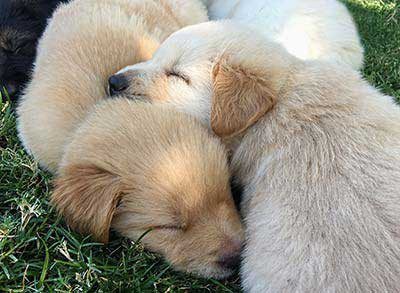 The Doodle Boys
Just hours after the last of Irish's litter was adopted, six 10-week old boy doodle pups arrived. They were all malnourished, had not been provided medical care, were covered in fleas and stunk to high heaven. With medical care, good food – and baths! – they quickly rebounded. One developed seizures after going home, but our vet treated him right away and he now appears to be seizure-free. Best of all – they return frequently for puppy play dates!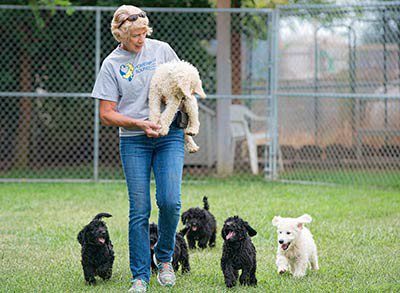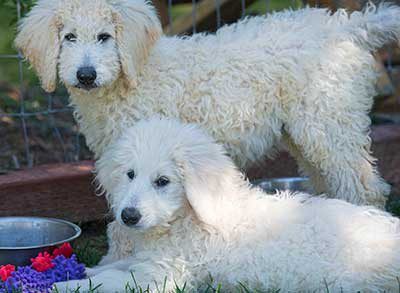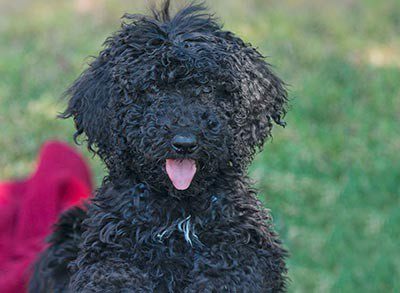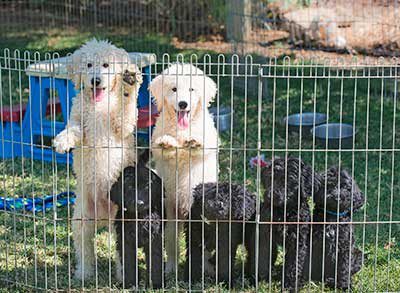 Eddie From China
Eddie came to us all the way from China. Rescued from the streets, he had apparently been hit by a car and his leg had healed at a 90-degree angle. As he grew, the painful limb was sure to snap, so our vet thought it best to amputate. It's tough to put a youngster through something so traumatic but Eddie bounced back quickly, and in no time, he was up and playing with the big dogs. A great family full of kids fell in love with our little tripod. He could not be more loved.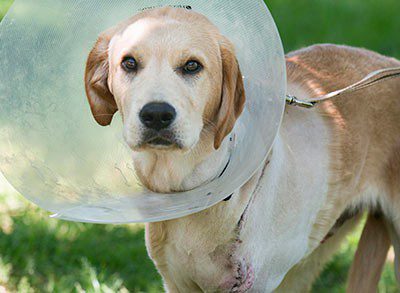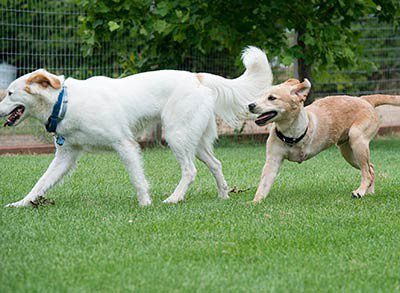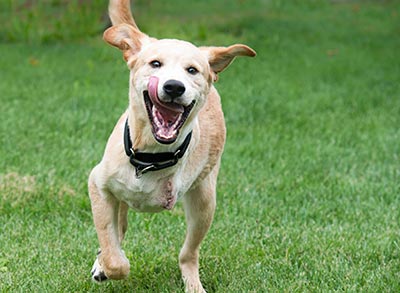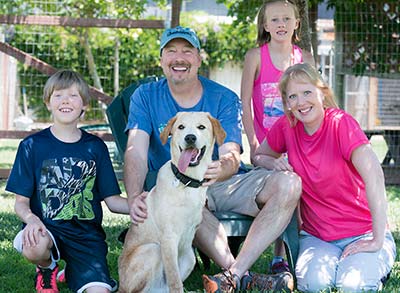 Lady Godiva's Litter
Just days after Lady Godiva gave birth, she was hit by a car. The backyard breeders wanted to euthanize, but a kind vet offered to give her the surgery for her broken leg, provided the puppies stayed with with her. Homeward Bound covered the cost of the surgery and Lady Godiva and her litter came to Homeward Bound. She was a fantastic mom who nursed and weaned her little ones while recovering from her own surgery. Lady Godiva and her pups are all adopted now, home and growing like weeds!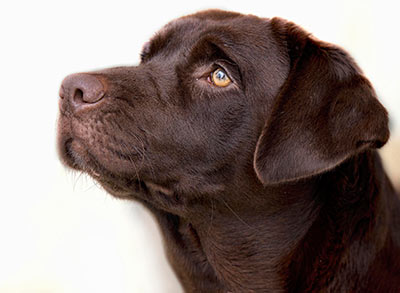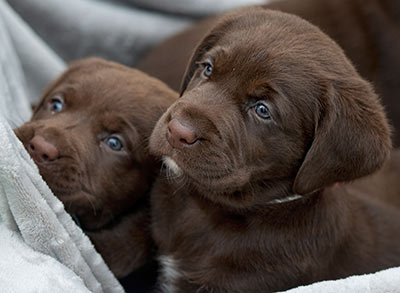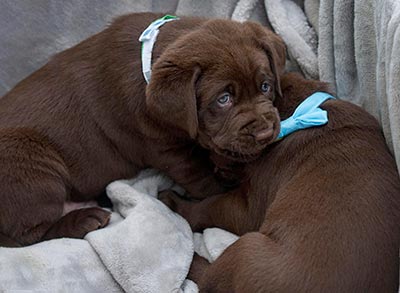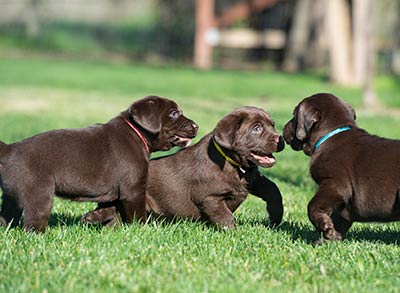 Homeward Bound can accept puppies like these and dogs with extraordinary needs into our program because of the generosity of people like you.
Puppies come to us for all reasons: some are purchased or adopted from shelters and subsequently surrendered when their adorableness turns to normal teenage destruction. Some come from puppy mills or backyard breeders because they could not be sold. Some are Golden…some are just gold at heart. All depend on us to help them get to a forever home. Here are two more stories:
Journey
Journey was not your run-of-the-mill puppy. At a very young age, she had already been passed around and missed some critical socialization time with littermates. After a couple of failed adoptions, she went to "boot camp" at a foster home where she had an older doggie role model. She also went to puppy school at Homeward Bound and was exposed to other dogs who corrected her over-the-top style of play. Finally, the perfect family came along and they are absolutely in love with this little girl, who is now known as Charli.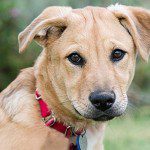 Casie
Casie had also been through a lot at a very young age. She was rescued from a hoarding situation and taken to a shelter. Her first adopters were unprepared for puppy destruction and timid behavior. They surrendered her to Homeward Bound. Quickly adopted, resource-guarding issues soon surfaced. So back she came, more frightened than ever. It took weeks of work for her to feel safe and begin to display her true personality. It was worth it because Casie is home now with a mom who offers patience, kindness and love.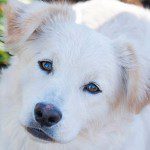 The dogs shared here are just a few of the many dogs that received medical care in the past year at Homeward Bound.
In 2017, our vet expenses exceeded $255,000 – even with the countless donated services and hours of our devoted primary veterinarian, Dr. Justina Codde. We are committed to providing each and every dog with the care it requires to complete its journey home.
Making a donation to Homeward Bound during our "Double the Gold Challenge" will help provide hundreds of dogs rescued this year with the best care we can give them on their journey to a wonderful forever home and a life filled with good health and love.
Please give generously to support Homeward Bound in its mission. Every dollar donated during the months of April and May will be matched by our "Fund of Love" and will be 100% dedicated to veterinary expenses for wonderful dogs who desperately need all of us.
Click here to donate by PayPal or Credit Card.
To donate by check, please send your check to:
HBGRR Double The Gold Challenge
7495 Natomas Rd.
Elverta, CA 95626.
Thank you for your support!