Double the Gold Challenge!
Each year, in early spring, a small group of donors step up to build a fund for the medical care of the dogs. Now, we turn to you. This is where the smaller donations of the many add up to a lot because every dollar raised through the Double the Gold Challenge will be matched by their Fund of Love – doubling the impact of every gift.
We have not seen a situation as dire as this since the great recession. Shelters are overwhelmed with dogs of all ages and health. Unable to surrender dogs to shelters beyond capacity, people are simply abandoning them. Puppy mills are closing as the economy is squeezed, producing an endless stream of dogs with special medical needs. Last year, we took in 400 dogs and supported another 80 in permanent foster; this year, we are pacing 40-50% ahead of that number.
Now – more than ever – your support is needed to capture every penny of the waiting Fund of Love match. No gift is too small. Together, we can get there and ensure that we can still say "yes" to every dog in need. The Double the Gold Challenge is on!

Following are just a few of the hundreds of transformations you will help make possible this year.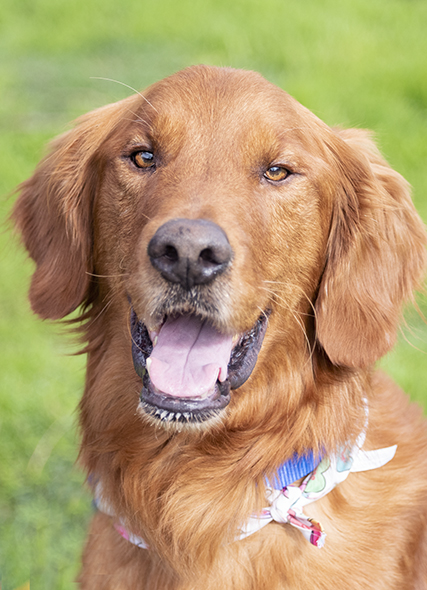 Kellen
We wrote about Kellen in our March newsletter. At approximately two years of age, skinny Kellen was found wandering the streets in Central California. That's difficult, because Kellen has no toes on three legs, and barely a pad on the fourth where infection had set in. The infection was treated but would likely reoccur…without help. That help is on its way. Dr. Katrina Castaneda, DVM, DACVS-SA – a board certified veterinary surgeon specializes in orthopedics and has a working relationship with PALS (Pet Artificial Limbs and Support) based in Houston, TX. Dr. Castaneda took expert measurements and work is underway on Kellen's prosthetics which should arrive within the month. Many of you contributed to help Kellen on his journey to full mobility. We will be sure to keep you posted!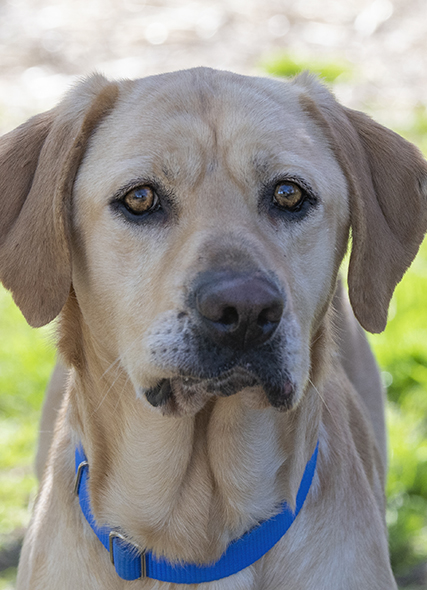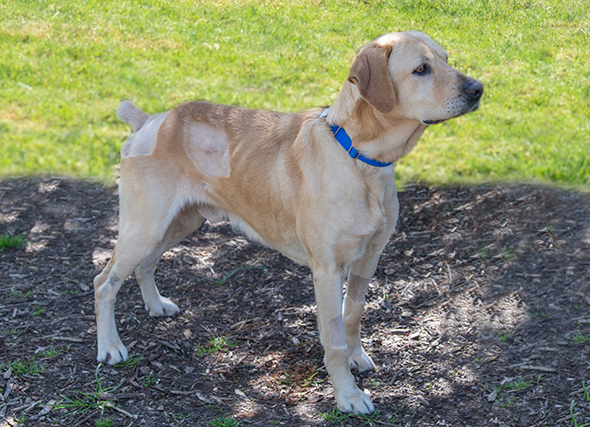 Kroger
Kroger is a beautiful Labrador Retriever who was found hit by a car. Unable to stand, the shelter needed a rescue to step up immediately, or he would have been euthanized. Of course, we said 'yes.' Kroger was rushed to a local vet, with Homeward Bound assuming his care. He had suffered internal trauma and bleeding, but his organs and bones were thankfully intact. Unfortunately, the same could not be said of his tail. Crushed, it had lost its wag and had to go. Emergency care saved Kroger's life. His health stabilized and mobility restored, he has joined us now with a happy, docked tail. Kroger's bill came to nearly $9,000. Because you are by our side, Kroger is now ready to find his forever home.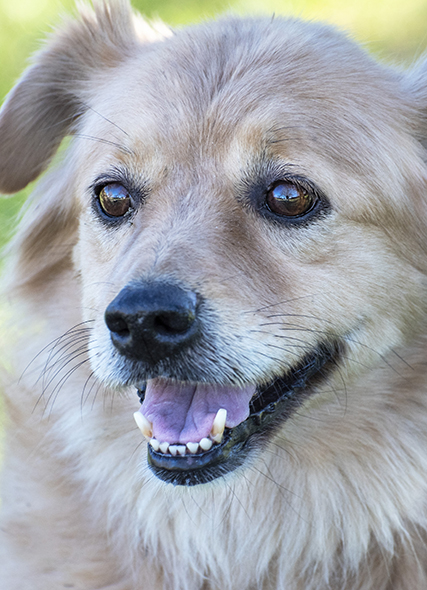 Penelope
Penelope was found stray in the Central Valley. She is a pint-sized Golden mix with a giant heart. It was soon clear that Penelope had an untreated medical condition. Blood tests revealed diabetes. A CT scan identified a mass on her liver. Surgery is not an option until her blood sugar is under control. One of our dedicated volunteers has taken this on with insulin administered daily and a strict schedule of blood sugar testing and feeding which are critical to success. Our paws are crossed that we can get her healthy enough to outrun the mass. Her vet bill so far: $2,500. Thanks to you, we can be there for her.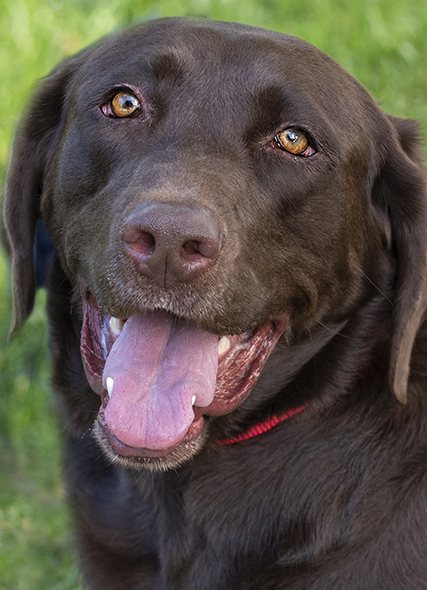 Nola
Nola arrived in late 2022. A beautiful, young chocolate Labrador Retriever surrendered to a high-kill shelter. She was obese, limping, and wasting in her hind end – the result of two torn ACLs. Hers is a long road to recovery, but with so much life ahead of her, we had to give it our all. First, she needed to lose weight; a hard enough task for a girl that can't exercise and loves her chow! By January, that goal was met, and she underwent the first of two surgeries. Each recovery is typically eight weeks, made more complicated by the weakness in the other leg. But she is progressing well and will soon undergo her second surgery. Throughout all, she has been supported by her loving fosters so she can recover in peace and comfort. We are committed to returning her full mobility – thanks to good people like you.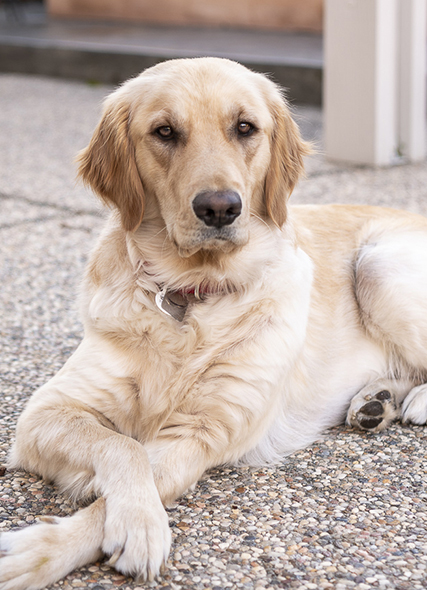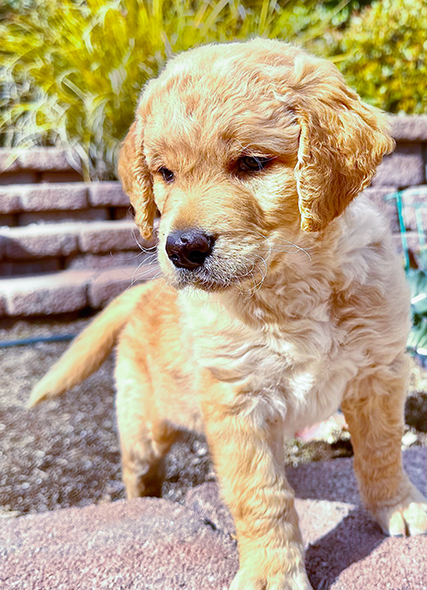 Sasha
On Christmas Day, a good Samaritan found and took in Sasha and her running companion, Benny. Eventually, she tracked them to a house where they had been used as backyard breeding dogs. The owner did not respond. Friendly and sweet, they were too much dog for the finder, so she asked for our help. Unsurprisingly, Sasha was pregnant. She was also breaking with kennel cough and quickly landed in the ICU with pneumonia. The medications needed to save her life would also jeopardize the puppies, but if we lost her, we would lose them too. With the life-saving medications administered, she went into premature labor and delivered 11 pups. All except one were sadly lost. But one, a strong handsome boy named Bailey, has thrived in his foster's loving care. Sasha's bill was almost $9,000 – but worth every penny for this beautiful girl and her boy who now call their foster "mom."
Moxie
Moxie arrived in late 2022 with her "husband" in tow. She had recently given birth to 11 puppies…not her first litter. No wonder she wanted a divorce! They had been used for breeding but were well cared for. A change in the owner's rental situation ended their relationship for good. Sadly, Moxie was still carrying an unwelcome guest: heartworm. Moxie underwent heartworm treatment – a painful treatment that requires complete calm following the medication to prevent the dead worms from breaking apart and causing severe complications including life-threatening blood clots to the lungs. Thankfully, a medical foster came forward to see her through the care. In the process, they fell in love and she is now theirs forever. Moxie is living a whole new chapter – thanks to you.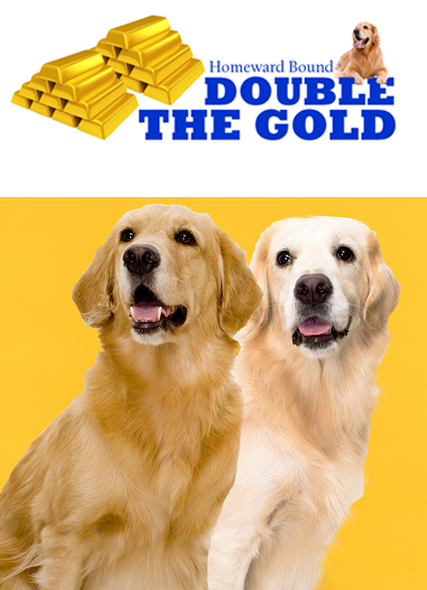 It's Time for the Double the Gold Challenge!
Homeward Bound has been able to support all of these dogs thanks to your generous gifts.
In 2022, our veterinary expenses exceeded $420,000 – an 18% increase over 2021 in keeping with the high intake and the dogs' extraordinary needs. This year presents an even greater challenge with more dogs and the retirement of our beloved Dr. Codde who donated so much of her time and discounted her services.
We know that these are extraordinary times for many. Anything you can contribute during the Double the Gold Challenge will not only help – it will go twice as far as your gift is matched by a waiting Fund of Love.
Let's not leave even a dollar of that Fund of Love match behind! We simply cannot do it without you.
How to Help
To contribute securely online, click the Donate button below.

To donate by check, please send your check to:
HBGRR Double The Gold Challenge
Homeward Bound Golden Retriever Rescue
7495 Natomas Rd.
Elverta, CA 95626.
On behalf of the Golden and golden-hearted dogs that will benefit from your generosity, our heartfelt thanks.