Volunteer Opportunities
Whatever your interest, Homeward Bound Goldens can benefit from your help! Below is a list of volunteer opportunities to consider. You're guaranteed to fall in love with our dogs and will likely make a few new friends while contributing to something you'll feel great about.
FOSTERS provide safe haven, care, training and love to help dogs on their journey to forever homes, or, in the case of dogs who are unadoptable due to age or illness, provide permanent sanctuary as they live out their lives with love.
FEEDERS voted tops with the dogs, share shifts twice a day, rain or shine, for a strenuous workout and rewards of wagging tails and sloppy kisses.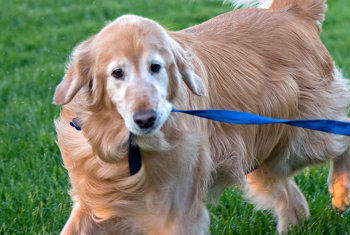 WALKERS build bonds of trust through walking, playing, training, and grooming, learning each dog's needs and helping to prepare them for their forever homes.
GROOMERS keep the dogs looking and feeling their best while ensuring that they become comfortable with the rituals of good care.
GOLDEN TAXI DRIVERS pick up and deliver shelter or surrendered dogs from across California and Oregon while comforting them and letting them know that better days lie ahead.
FACILITIES/MAINTENANCE TEAM keeps our center and sanctuary running with a "honey-do" list that never ends.
GROUNDS AND GARDENERS maintain eight acres of yards, grounds and our memorial garden.
YOUTH PROGRAM MENTORS be trained to lead your own team of 3-4 young adults committed to community service and encourage their passion for rescue.
ADMINISTRATIVE & MARKETING the invisible glue that keeps the records, books, and tracks our progress – and then shares it with the world.
GRANT WRITERS, FUNDRAISERS, EVENT STAFF keep us operating, because it is our supporters' generosity that keeps our lights on, our medical bills paid, and our kibble bins full.
Have a skill we haven't covered? We probably need it too! Tell us about it when completing the Volunteer Application.
Thank you for your interest in volunteering at Homeward Bound Golden Retriever Rescue.