Help Us Light Up the 9th Annual Homeward Bound Giving Tree!
The 9th Annual Homeward Bound Giving Tree will remain up until New Year's Eve!
The spirit of giving doesn't end on Christmas Day. There's still time to make a gift in honor or in memory of your special someone—two-legged or four. Show them you care, or simply make a donation to support hundreds of dogs that come through our doors each year while earning a tax deduction before the New Year.
Starting at just $10 you can help us decorate our Giving Tree by placing a light, ornament, or package on our virtual Giving Tree.
Warm the heart of an honoree while helping Homeward Bound continue to take in, support, provide medical care, and help hundreds of dogs each year on their journeys to home…dogs just like the 19 Labrador Retrievers highlighted below.
Give securely online through the link below, or mail a check with your In Honor or In Memory instructions and message, and we will add your message to the tree for you.
Mail checks to:
Homeward Bound Golden Retriever Rescue
Attn: Giving Tree
7495 Natomas Road
Elverta, CA 95626
Or Click Here to go directly to the Giving Tree!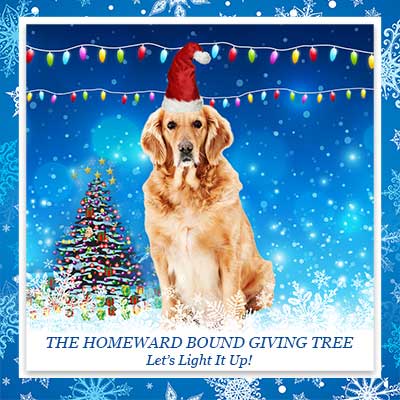 Lab Lift: A Rescue Mission
The request arrived late Monday, November 11th. By very early Thursday morning our team was on the road. Our destination: Oregon. Our mission: to bring 19 breeding Labrador Retrievers—black, yellow, and chocolate—to safety.
Their AKC paperwork was completely inconsistent with their true living conditions. Their humans had become overwhelmed. Housed in outside kennels without appropriate shelter and with long-neglected medical needs, they needed immediate assistance as the winter weather set in.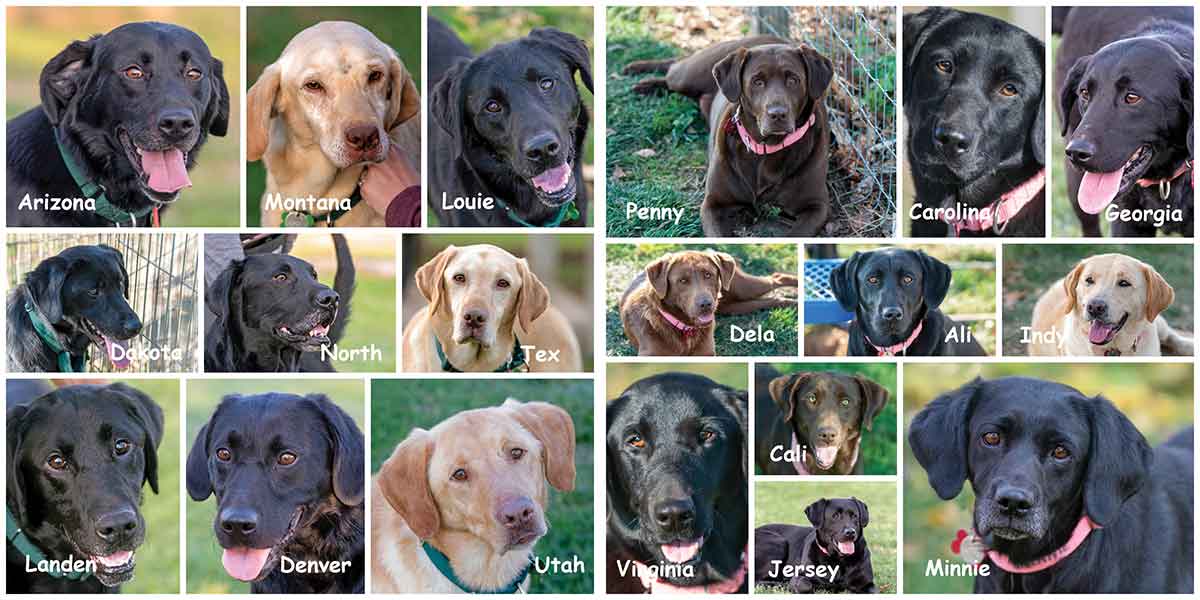 When groups of dogs are in desperate need, we become even more aware of the blessing of our eight-acre facility instead of having to rely solely on foster care.
Working with a rescue partner who helped arrange for a special trailer, we were able to lift all 19 at once to safety, protection, and care. They have been seen by our dedicated vet, Dr. Codde. They have been scrubbed of years of dirt by our drenched volunteers. And they are quickly learning the ways of indoor-dog habits thanks to the patience and persistence of our amazing feeding team. Our walkers will teach this crew that collars and leashes are good things – leading to walks and play. And some of the more shy ones have gone to foster to help them prepare for their journeys to forever homes.
Dogs are remarkably resilient. These were neglected, but not mistreated. They are social by nature and learning that people can be included in their pack. Within days, most went from cowering to hugging. And for that, we give thanks.
All nine boys and ten girls have undergone neuter and spay. Almost all had dentals. Fleas and worms were banned, and any other medical needs addressed. Three meals per day is helping to put on some needed weight. Good food and care will restore shiny coats. It is a joy to watch their individual personalities emerge helping us make the best matches possible.
As of Christmas, all but three are home (two remain with us for medical needs). Their best lives are ahead. See their video below.
Without you and our volunteers, this Lab Lift would not have been possible. Thanks to your support, we are able to say "yes" and jump into action without hesitation when dogs are in need.
Your gifts made to the Homeward Bound Giving Tree—in honor or in memory of your special someone—make our mission possible.

Starting at just $10, make a gift today in honor or in memory of someone special by placing a light, ornament, or gift on our online, virtual holiday tree.
Your honoree will receive a beautiful certificate telling them of your gift and where they can view the tree online. Your tax-deductible donation will warm the heart of an honoree knowing that it – and they – will be helping Homeward Bound continue to take in, provide medical care, and help hundreds of dogs on their journeys home each year. It is incredible to watch your gifts turn our tree into a shining beacon of rescue and hope each holiday season!
Go to the Giving Tree Now! Click Here
For Questions Contact: Deb Haggerty at debhaggerty13@gmail.com
And Thank You!!