2018 Homeward Bound Golden Retriever Rescue Calendar Contest!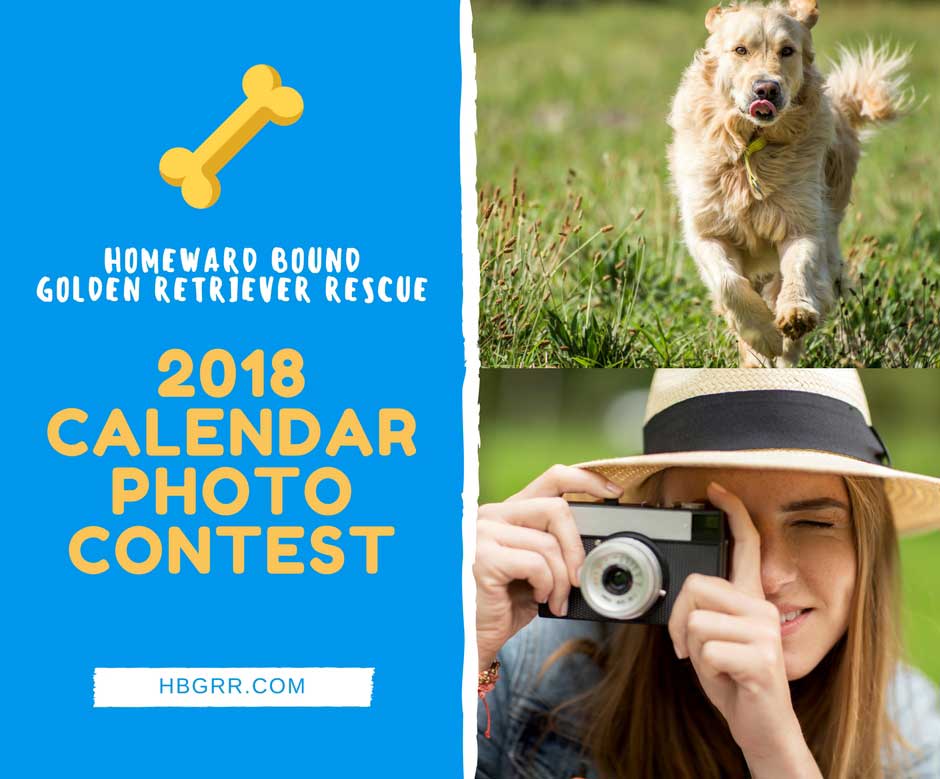 Picture your dog in our beautiful calendar!
Show off your favorite golden friend(s) to the world! Enter your best Golden photos in our calendar contest and your beloved Golden could appear in the Homeward Bound 2018 calendar. Here's how it works:
This is a 13-month calendar. Seven of the pages will include full page photos.
Six of the calendar months will be collages, so you have a better chance of having your Golden appear in the calendar.
If your photo is not chosen for a full page or collage, it may appear on one of 47 blank date block spots (at the beginning and end of each month on the calendar page).
Photos will be selected by the Homeward Bound judging panel.
The cover spot will be auctioned off at the 2017 Kibble & Bids event on September 16th. The cover portrait will be taken by Homeward Bound photographer, Rob Kessel, at a mutually agreeable date and time at Homeward Bound. The cover shot will be chosen by our judging panel. This is a very special opportunity to put your dog on the cover. Don't miss it!
The important stuff:
Guidelines for Pictures and Picture Resolution
Entries must be high-resolution, digital images suitable for printing. All entries must be emailed. Sorry, no snail mail. No hard copies will be accepted.
When taking digital photos, set your camera or phone to the highest resolution. Check your phone to see what the default settings are. Make sure you set them as high as possible. We cannot use low resolution photos, because even though they may look good on your phone or camera, they won't look good enlarged and in print.
Do not change the size of the photo to a smaller size when you email it. Please send the full-size file.
You may submit landscape orientation (horizontal) or portrait orientation (vertical) photos. Only landscape photos will be considered for the full-page spots. Portrait (vertical) shots will be considered for the collage pages and the date block spots.
Photographer/Copyright
Because this is a photo contest, no professional photos will be accepted. Photos must be taken by you or a family member.
Photo Subject Restrictions
All photos must include a Golden Retriever (it does not need to be a rescued dog). Other animals in the photo are fine, but no humans in the photo, please.
Number of Submissions
The submission fee for each photo is $15. Please submit only ONE photo for each submission fee paid. If you do not, only the first photo sent will be considered the submission photo.
You may enter up to five submissions – each requires a separate donation. (One photo is $15, two photos total $30, etc.). Submitting multiple photo does not guarantee multiple selections by our judges.
Deadline to Enter
All photo submissions and donations must be received by September 15th, 2017.
Ownership/Use Rights
Photographers retain the copyright to their photographs. By entering a submission, photographers agree to have their submitted photograph displayed in the 2018 Homeward Bound Golden Retriever Rescue Calendar without any fee or other form of compensation. Homeward Bound Golden Retriever Rescue reserves the right to display winning photos in an online photo gallery, and may make and retain copies of the photograph for archival purposes and/or for use in other publications. In the event that ownership of any photograph submitted to Homeward Bound is contested in any manner, Homeward Bound retains the discretion to disqualify that photograph and discontinue use of the photograph.
How to Submit
Complete the donation form below. After you hit submit, you will be taken to a Paypal screen to complete your payment. Thank you!

Once you have paid for your submissions and received a confirmation, you may submit photos. Submit your best Golden photos via e-mail to HBGRRCalendar@gmail.com. Please add identifying information in the email so we can match your entry (including your name and the dog's name).