Share the Love!
Sponsor Our "Fund of Love" In February and March
Each year, beginning on Valentine's Day, a group of family foundations, businesses, and generous individuals comes together to build a Fund of Love, so that all our supporters can have their donations matched during our spring fundraiser: Double the Gold Challenge. Won't you join in this important effort? For as little as $250 you can support this vital cause. Or, if you wish, you can provide the entire matching fund. Every dollar raised during these matching fundraisers is dedicated to providing needed medical care for dogs in our program.
Every year, Homeward Bound takes in hundreds of deserving dogs. Because we are one of the few Golden rescues in the nation with a facility, we can take dogs regardless of their age or health; dogs that might not otherwise be saved. Most are healthy and need just basic care – a vet check-up, heartworm test, vaccinations, spay or neuter surgery, or other routine care. But some require extensive care, and a few break new medical ground as you will read below.
In 2017 Homeward Bound rescued 302 dogs. Veterinary expenses exceeded $248,000.00. We were able to provide each dog with the care he or she needed, including ear surgeries, tumor removals, heartworm disease treatment, dozens of spays and neuters, numerous orthopedic and miscellaneous surgeries, and countless treatments for various infections and illnesses. Fund of Love and Double the Gold Challenge donations provide a large percentage of the funds needed to cover our medical expenses.
Last year, we took in a dog that has the honor of being our most expensive and complex medical case to date. The adorable ten-year-old Alison came to us from China, via a Southern California Golden Retriever rescue group.
After she was diagnosed with a tumor on her adrenal gland, the volunteers in Southern California asked if we would take her, feeling they did not have the resources required to treat and care for her. Of course, we agreed.
Alison needed surgery to remove the tumor and save her life. A specialist, Dr. Erin Paster, was called in to perform this complex surgery. During the operation, the cancerous adrenal gland was removed, and it became apparent that Alison had been hit by a car at some point. A grapefruit-sized tumor was discovered in her abdomen, likely the result of trauma. It too was removed. Alison was hospitalized for several days to be closely monitored. Happily, the surgery was curative; all cancer was excised. The bill for the surgery alone was $5400.
Alison is in foster care now with her buddy Waldo, where she is happily recuperating and getting stronger. She will be undergoing corticosteroid replacement therapy for as long as needed. It could be lifelong but will be evaluated six months after her surgery. At that point, additional blood work will be done to make sure the remaining adrenal gland has begun to do the work of the one that was removed. The consensus of our vets is that Allison's case is probably our most complicated and involved to date.
At Homeward Bound, we don't give up easily; we'll do everything we can to help a dog. When Alison arrived, we were advised that she might not be savable. But we tried anyway. Alison's will to survive, the doctors' skill, and many prayers pulled her through and paved the way for a happy, healthy new life. We are delighted with the result. We are so grateful to our vet, Dr. Codde, and to Dr. Paster for saving this adorable girl and giving her a healthy future.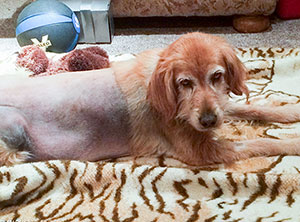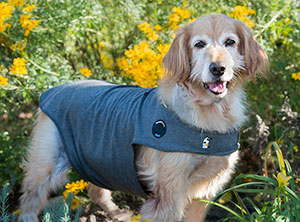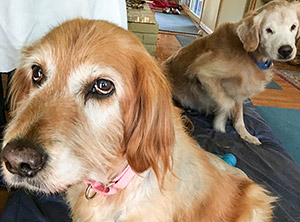 Hundreds more dogs will need our care this year. We are committed to ensuring that they all get the medical attention they need as they journey to new homes. We are able to help dogs like Alison because of your generous donations. These dogs rely on the Fund of Love, which we build in February and March, to generate matching funds for the Double the Gold Challenge, which is held in April and May.
Please join us in our mission to provide outstanding care for deserving dogs like Alison by helping us to build this year's Fund of Love. The minimum donation for this fund is $250. You can choose to donate a greater amount, or you can provide the entire match, as well.
To contribute to the Homeward Bound Fund of Love you may use the following options:
To contribute online by Paypal or credit card, click the Donate button below.
To contribute by mail with a check or credit card (Visa, Mastercard, Discover or American Express), click here to download our printable donation form. Mail the completed form, including credit card information if applicable, to:
Fund of Love
Homeward Bound Golden Retriever Rescue and Sanctuary, Inc.
7495 Natomas Road
Elverta, Ca 95626
On behalf of the Goldens that will benefit by your generosity, our heartfelt thanks.