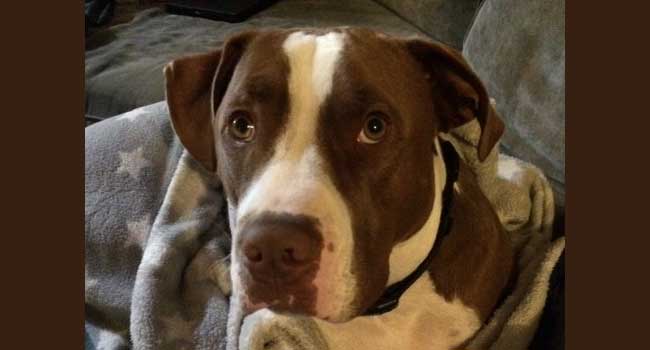 COURTESY POST: MOOSE
I am a huge ball of fun! I am 100 lbs of love. I am an 18-month-old, beautiful, American Bulldog Mix. I love to chase a ball or a frisbee (but not to give it back!). My favorite thing to do is cuddle on the couch or in bed…if you let me! And I will do anything for treats or dried mango. I am a good listener and easy to train. I can sit, stay, come, roll over and leave it. I get super excited to go on a walk and my head halter has made it much easier for my humans to walk me. I am overly interested in other dogs, but I have no social skills.
I don't find a need to bark very often. I am pretty quiet and chill most of the time. I feel pretty nervous around small children and would do best in an adult-only household. I would be an amazing dog for a woman living by herself or a couple. My current family adopted me when I was just 8 weeks old and they are devastated – BUT they have kids around all the time and this isn't going to change anytime soon.
I love women and all adults. I do have issues with food and toy guarding, especially with other dogs, but my family has worked really hard to help with this and I do pretty well if I have some guidance and consistency. I currently live with a ten-year-old bulldog. For a while, my family had a little Chihuahua they were fostering and I got along with her, too (and she was not easy to get along with). I like to chase the cat that I live with and she has learned to put up with me. If I cross the line with her, she tells me and I back off – but it's hard! I have goats and chickens and my family thinks I am really good with them. I am staying with my family until I can find my furever home.
I think I am a Level 3 doggie. I need structure and predictability and an adult who is comfortable with a big dog.

COURTESY POST
Moose is not a Homeward Bound dog. If you think he might be a fit for you, please contact Jill Bailey at (530) 570-0816.