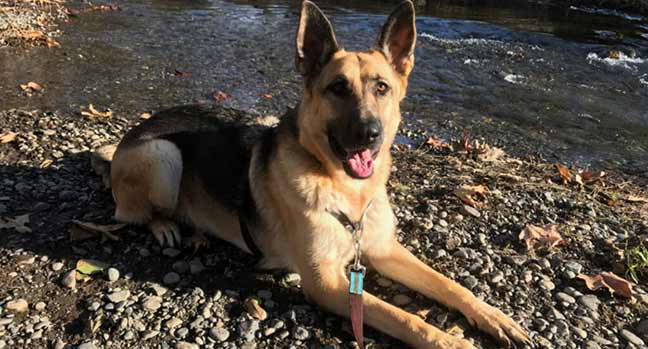 COURTESY POST: MEET ANNIE BEAR!

Annie Bear is a special dog with a very special history, and she needs a very special home. Her longtime foster, who is a trainer, is looking for the perfect fit for this people-loving, four-year-old spayed girl who has already received national attention. Read on.
Annie has now been my long-term foster for three years. It took a year for her to get physically healthy. It took another year for her to get past all her teenage craziness, gain some training, and to learn how to be a playful, happy dog. And for the last year I have been searching for the perfect home for her. People from all over admire her. But she has yet to find her perfect home. The number one barrier is that she must be an only dog, cannot be expected to socialize with other dogs, and cannot live with cats.
Annie's virtues are many:
She is BEAUTIFUL. She is huge (about 100 pounds) and is a rather long and lanky girl. She has a beautiful face and when she looks up at you, it is hard not to melt.
She is HEALTHY (finally). When she came to me, she suffered from terrible GI problems and almost no muscle mass. She does best on a Hydrolyzed Protein Diet with added probiotics and fish oil. She also takes daily fluoxetine because it has helped even out some early anxiety she had. She is up to date on all vaccination and is heartworm free.
She is SMART and very receptive to training. She has a good foundation of basic training and would easily excel at more. She has responded beautifully to positive reinforcement training.
She LOVES people! Annie is NOT guard dog material. She thinks every human is friend, not foe.
She loves going for on-leash walks and is pleasant to walk. She is walked in a Freedom harness and pulls very little on a leash. That said, she is 100 pounds and needs someone strong enough to handle her.
She is AFFECTIONATE and PLAYFUL (loves those tennis balls).
Annie does have some clear special needs requirements however:
She can be REACTIVE (lunge and bark) toward other dogs on leash if her attention is not redirected, particularly if they lunge and bark at her.
She is unable to read or display appropriate social signals to other dogs. She has had some dog friends over the years while with me, but consistently (and sometimes rather dramatically) decided to unfriend
them, usually for no apparent reason to anyone but her. If a dog aggresses toward her, she is ready to fully reciprocate.
She can be a nuisance barker at fence lines, particularly if there are other dogs in neighboring yards. And her bark is LOUD! For this reason, she should not share a fence line with other dogs.
Annie is a true "diamond in the ruff." She is not a perfect dog…but she is a WONDERFUL dog. Her perfect home will be one with German Shepherd-savvy adults (no kids) who will continue working with her training, will enjoy walking with her, and who have a home where there are NO OTHER DOGS
(or cats) nor any expectations that she will have to be around other dogs. She needs a home where someone is home most of the time – so she has lots the human company she craves.
Interested in learning more? Here is Annie's story, as published in the Whole Dog Journal blog:
https://www.whole-dog-journal.com/blog/dog-trainers-save-lives/.

COURTESY POST
Anne is not a Homeward Bound dog. To learn more about Annie, please contact her foster at: (530) 321-1710 or sarahrichardson@hotmail.com.