Homeward Bound Golden Retriever Rescue Events Calendar
Check back often for a list of upcoming events. We hope you'll join us!
Homeward Bound Memorial Garden Service
Saturday, May 4th, 6-8PM
This spring, when the Homeward Bound Memorial Garden is in full first bloom, and the sun begins to lower in the sky, we will take a moment together to light a candle and remember the dogs we have loved and lost.
We hope that you will join us for this very special early evening in the garden. Enjoy catered appetizers, wine and soft drinks. Leave a message for your dog on photos hung from the garden trees and if you want, turn them to ashes that we will leave in the garden to remember them always there.
For full details and ticket purchase, please visit our event page here.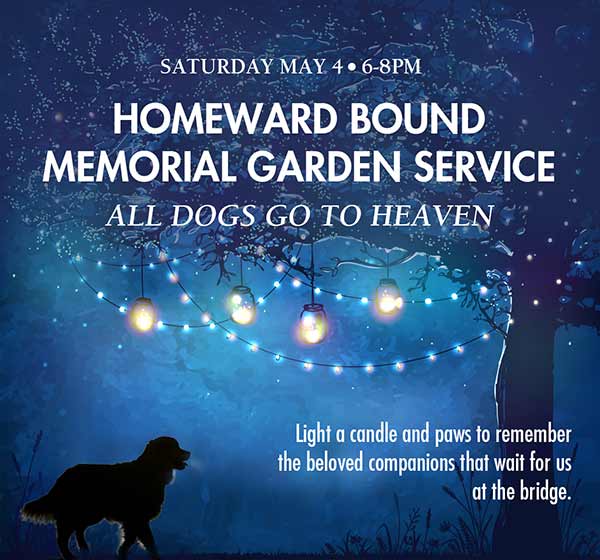 Save the Date!
Homeward Bound Reunion Picnic
Join us for the Homeward Bound Reunion Picnic!
Sunday, May 19th at 11AM
Tahoe Park in Sacramento
Meet old friends and new as adopters, alumni and volunteers reunite! Get ready for great food, festivities, and fun!
All well-behaved Homeward Bound alumni (and their humans!) Need more info? email events@homewardboundgoldens.org