Homeward Bound's Youth Program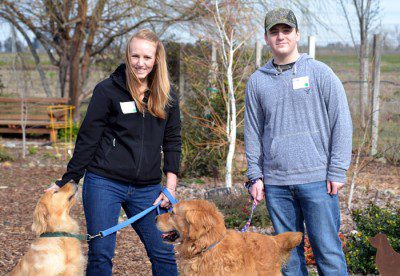 To ensure our mission endures, we hope to encourage today's youth to become tomorrow's champions of animals in need.
For Youth:
The minimum age for volunteering is 15 years of age. For those 15-18 years of age, Homeward Bound offers a Youth Program of Community Service projects. Every Saturday from 11:00 AM – 4:00 PM our youth volunteers work with an adult lead volunteer to learn about rescue and all aspects of caring for the dogs. Unplug for a few hours and prepare not only to work, but to appreciate the difference you make in a dog's life by sharing just a bit of yourself. You'll walk, play, treat and yes, you'll also clean kennels, wash dishes, do laundry, sweep and mop and even pick up poop! But remember, we wouldn't ask you to do anything we don't do ourselves! It's all about the dogs and giving them what they need and deserve. Along the way, you may even make a few friends and discover a new passion. To get started, please complete our Volunteer Application.
For Adults:
Homeward Bound is blessed with young adults wishing to volunteer. What we are always in need of are trained Youth Program Leads to mentor these 15-18 year old's and their love of rescue to help them learn to be stewards of our companion animal friends. If you share their passion, and enjoy working with young adults, we would love to talk with you. Commit to as little as once a month, or once a quarter. We'll get you trained, so you can train the next generation of rescue. Email us at volunteering@homewardboundgoldens.org. The kids and the Goldens say "Thank You!"