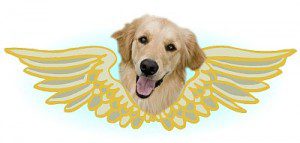 Sponsor a Golden with Special Needs
Want to help the goldens but can't adopt or foster and don't have time to volunteer? You can still contribute! Make a meaningful difference in the life of a golden in need by sponsoring a dog in our Golden Angel Program.
Each golden that comes to Homeward Bound receives at a minimum, a vet exam, vaccinations, spay/neuter, heartworm test and treatment if needed to be ready for placement into a loving home. Some dogs require additional medical care, including hip surgeries, repairing broken bones, removing tumors, treating ear infections, ear surgeries, eye surgeries, knee surgeries, and a host of others. Our adoption fees don't come close to covering the costs of this extensive medical care. Thus we rely on donations from our generous supporters. Some of these golden guests will stay with us for an extended period of time to recover, heal, gain strength and confidence before moving along to their forever homes. Some, because of their medical challenges, will become permanent Homeward Bound residents.
Pictured below are four dogs with special needs that require extra care and attention. If you would like to help by sponsoring them, you'll be making a big difference in their lives.
You can make a one-time donation of any amount via PayPal or personal check, or you can become a Golden Angel by making a monthly donation via PayPal. Donations are tax deductible and will be a blessing for those goldens who need a little extra care or time.
Winnie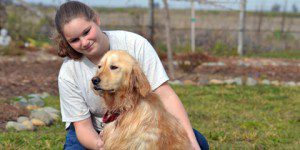 At three years old, Winnie is a fun-loving girl with a squirmy, wormy gate and some balance issues. She has no idea that she is not a typical Golden. Winnie has a condition called hydrocephalus – water on the brain. Congenital hydrocephalus, like Winnie's, appears a few weeks up to a year after birth. It is characterized by a soft skull which results in a domed head due to swelling. Excess fluids – with no place to go – cause compression of the brain.
Winnie came to Homeward Bound when her elderly human dad could no longer care for her. He provided pages of notes about her specialness.
Thankfully, she has found the special attention she needs – and more – in a permanent, loving foster home and an extraordinary someone committed to her long-term comfort and care. Today, she is full of life and high spirits. No matter the length of her life, Homeward Bound believes she deserves to live it as richly and fully as possible. We are committed to ensuring her ongoing medical care while she remains in a loving permanent foster home. She is an angel sent to us – to share with you.
Red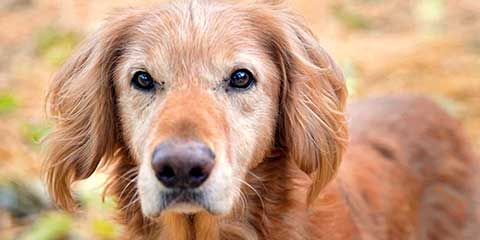 The call of the wild is a powerful thing for dogs. Red came to us in 2012. He was raised feral with a pack of dogs on an owner's property in Oregon. They were all literally rounded up by cattleman and adopted out. Most people had no idea what they were getting into and all but Red found their way back to the wild. Red was surrendered to us by his newly adopted mom who knew his needs were too great for her to keep him safe.
We hoped that Red would adjust in time to the ways of humans and family dogs so we could find his forever home. As it turns out, his forever home will be with us.
When he first arrived, he was emaciated and nervous, constantly surveilling his surroundings and rarely sleeping. He found comfort in the company of dogs residing in our senior area, Sugar Shack Acres. In this special area of Homeward Bound, dogs that are unlikely to be adopted – usually due to age or illness – can live communally in a house just for them and a large, shady – and secure – yard that they are free to roam at will.
Progress, for Red, came in tiny baby steps forward and backward. He is still extremely timid around new people and does not welcome walks or the touch of those he doesn't know. He does trust in a few of our dedicated volunteers who can groom and bathe him, and ensure that his medical needs are met. But there is no question that he would bolt and return to his feral life if ever given the opportunity.
And so, we keep Red safe – and loved – in permanent sanctuary at Homeward Bound. His food, housing, and medical needs will be met for life by special angels as our volunteers continue to prove to him that our calling of rescue and love are even stronger than the call of the wild.
Callie and Star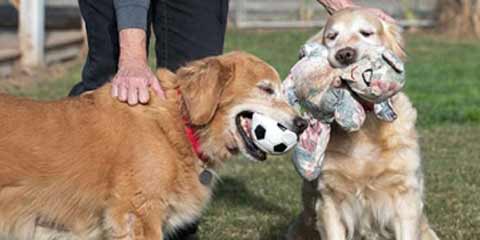 Callie and Star were surrendered to Homeward Bound in hopes that they could have a better life. At eight years old, these bonded sisters both suffer from a condition called 'dry eye.' This disorder with a very long official name (keratoconjunctivitis sicca) causes insufficient tear production and a correspondingly dry cornea. In a dog with dry eye, the bright, glistening sheen normally seen in the eye appears lackluster instead with the cornea is dry, dull, and opaque. Dogs with dry eye are prone to recurring bouts of conjunctivitis. Eventually the cornea becomes ulcerated or cloudy. Blindness can ensue, especially if not treated.
While the eyesight of both Callie and Star is already compromised, they can still see. To help keep it that way, they have been placed in a loving permanent foster care. Homeward Bound will be responsible for their long-term medical care including the cost of expensive drops that have to be administered daily to treat their dry eye condition. When Homeward Bound commits to a special needs dog's long term medical care, we make it easier for families to say "yes" to a forever home. Callie and Star are surrounded by love because their medical needs are ensured – thanks to generous Angels – like you.
Weezer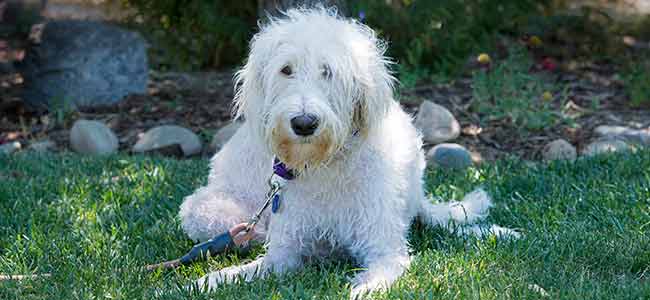 Weezer is an adorable Goldendoodle – part Golden, part Poodle. He arrived at age one with esophageal paralysis. This condition puts him at risk of choking if he eats as a dog normally would. We're not sure whether the condition was acquired through some type of trauma, or is heredity as can so often be the case with "designer" dogs.
For the rest of his life, Weezer will need to be fed a slurry meal of wet dog food, and his intake of food will need to be closely monitored. Other than that, he should live a normal, healthy life. But his diet requires a commitment of significant time and expense to prepare his daily meals. He'll be going home on a permanent foster basis so Homeward Bound can help with his expenses for the rest of his life.
Weezer won't know the difference between "adopted" and "permanent foster." All he will know is "home" and "loved." We're grateful to his people who understand that the effort bestowed upon him will be returned tenfold in joy. By becoming Weezer's Golden Angel sponsor, you will be helping us offset the cost of his special food and any medical care he needs in future. He sends you a big slurpy "thank you!" – as do we.
To become a monthly sponsor of a particular dog, or the Golden Angel Fund in general, please click on the "Subscribe" link below. You can process your payment with PayPal or the credit card of your choice and you may cancel your recurring payment at any time. Thank you!