Homeward Bound Golden Retriever Rescue Events Calendar
Check back often for a list of upcoming events. We hope you'll join us!
The 2017 Homeward Bound Giving Tree
Beginning Thanksgiving Weekend!
The 7th Annual Homeward Bound Giving Tree will be ready to decorate online beginning Thanksgiving weekend!
It is the perfect gift for a dog lover, a last-minute shopper, or the special people in our lives who don't care about receiving more "things." When you donate to the Giving Tree – in honor or in memory of your special someone (canine or human) – you are giving a gift from the heart that benefits all the dogs who need our help on their journeys home.
For donations of $10.00 or ore, you can help us decorate our virtual tree with lights, ornaments, and gift boxes. Your honoree will receive a beautiful certificate from Homeward Bound telling them of your gift and where to view the tree online with your recognition of them. It is incredible to watch your gifts turn our tree into a shining beacon of rescue and hope each holiday season!
You will find the link on our home page beginning Thanksgiving weekend. Please join us in making this the most memorable year ever!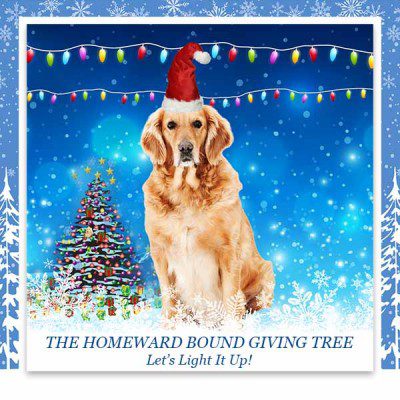 Get Ready for Santa Photos!
Friday-Sunday, December 1-3 at Homeward Bound
10AM-2PM Each Day
Ho! Ho! Ho! 'Tis the season to dress our pooches up in silly holiday outfits and mark the year with another beautiful Santa photo!
For a $20.00 donation, we provide Santa, the photographer, a winter backdrop, doggie scarves and holiday gear, hot apple cider and hot chocolate, plus homemade cookies for dogs and humans! You provide the dog(s)!
Your Santa photos will be available online for download with a super-speedy turnaround.
Email us to schedule your Santa Photos today! Slots go quickly.
Send your day and time request to: goldentraining@homewardboundgoldens.org